Ever liked to customize pictures and make people look funny? Well, now on your iPod, iPhone or iPad, you can easily manipulate any pictures on your camera to customize them with many features. Being a five star app on the market is not easy, so users have given it a 4.5, which is still good for many apps. Users describe this app as fun, easy to use and that this application fits the user which is very uncommon within apps on the App Store. So if you would want to have a picture of your boss, ex-girlfriend or boyfriend, your mother or father in law, feel free to use Face Bender to have a great time while relieving that pent up stress. You should also make sure that your iOS device is password protected for these reasons.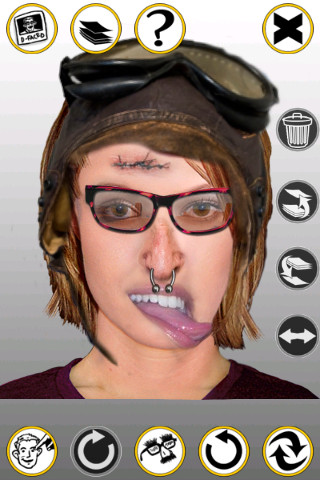 From the great features on the latest version, you can now add newer stickers on your photos, whether it's a fake moustache, a scar or many other things that come along with this application. This app is very interactive and it loads at lightning fast speeds. Once you choose if you would like to stretch out a man or a woman's face, you have many options on your screen. One of those first options is a snapshot feature which hides all the customizing buttons and shows the picture as a whole. Do you like to merge pictures to create optical illusions? The application also provides a merge button right on top of your screen.
What's so great about putting stickers on my picture? There's a great variety of stickers which you can arrange and resize, having the stickers mold to a certain face. You can also rotate the sticker to your liking and it adjusts if the subject is leaning to the left or to the right. You can also add face paint to your subject to heighten the scary effect along with many crooked, grilled, or just plain ugly smiles to choose from. If you are not having fun with someone's picture and doing your own, then you can either post a normal smile or a funny one to show your friends and family.
So can you change facial features on this application? Yes you can and you can choose from noses, ears, eyes and facial hair to glasses, scars and other additional features that can easily blend in with the real picture. If you want to see what you would look like with a new hair look or hair color, feel free to try on the wig stickers before actually taking that step. In addition, you can put a piercing on the picture to scare your mother or to show off to your friends without actually doing it.
When you look for themes on this application it has one of the best Christmas and Halloween themed stickers, which can make a normal picture look like a Christmas picture in just seconds of editing. You can superimpose one sticker over the other for better effects as well. Once you finish with your photos, you can view them in your gallery for extra laughter with your friends and family. If you want to make the picture a cartoon, it is much easier to bend it with Facebender and it is also great for quick editing when you need it. The app is worth $2.99 in the iTunes App Store and, with all the features on this app as well as the oncoming ones, this app is worth the money.
Apps4Review Rating –  *  *  *  *
App Name : Face Bender
Download Link :  Download Face Bender