If you want simplicity from a game, you should definitely try Trace out because it is one of the easiest and entertaining games out there.  The game is fit for any age because it consists of drawing platforms to get through the level.  All you have to do is avoid any obstacle you may find and get to the end of the level safe and sound.  You have a little stick figure, usually at the left side of the map and you have to guide it to the end.  People have finished the entire game in less than twelve hours… can you beat the record?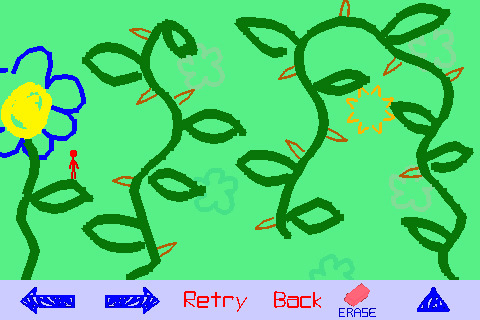 The game consists of moving the stick figure with the arrows on the bottom of your screen.  You have to get to the sun at the end of the level, so you must draw your path to the end of the path if you can't get there through any other way.  If you have moving obstacles you should draw your way under or over them without getting caught.  There is a timer on each world, which gives you an idea of your average time to complete them all.  You also have an original soundtrack, which you can activate or deactivate if you want more concentration.
Made the wrong move?  No problem, just erase the path or platform and start over.  With over 120 different levels over 6 unique worlds, you have enough months, days or even hours to finish this game.  You don't need to have any gaming experience or amazing drawing techniques; all you need is some time to spare and the passion to beat the record of less than 12 hours to complete the game.  Even if you come close, you can email the developers so that your score can be posted on the official Itunes website for the application.
This game has an average rating of 3.5 stars among users but recent users have given it five stars because of the quality and the simplicity of the game.  One user even states that a three year old kid is able to play the game effortlessly, making it a great way to keep them busy whenever you need some time to work, study or just to relax while having in mind that they're learning some skills on your iOS device.  The game is free to play and this makes it popular among iPod touch, iPad and iPhone users.
Apps4Review Rating :  *  *  *  *
Download Link :  Download Trace.