Tired of having to put your notes through a scanner whenever you need to send them? Have an important document to send and no time to lose? Or do you have access to a test and you want to share it via PDF with your buddies? Whatever your case is, CamScanner is one of the most useful applications you can find. Why not just take a picture with your Android device and keep walking? Your Android device may or may not have flash. Camscanner takes any picture without needing a flash and it enhances it as if it were a scanner.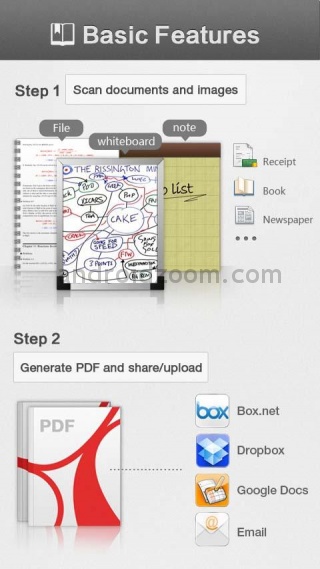 All you need to do is open a new file, take the picture and once you have the image cropped properly, you can then proceed to the enhanced picture (where the white background is brightened and the letters are well defined). What makes CamScanner a great application is that it magnifies the document once you are cropping the picture, so you make the right crop every time! It doesn't matter if your picture is out of focus when you're going to take it. All you need to do is point and shoot and the program will automatically focus on the letters.
What makes CamScanner so special? You can have great scans to PDF in just seconds and with little experience. Apart from being easy to learn and great for scanning, you can instantly share your PDFs via Facebook, Twitter, Bluetooth, Email and even by text messaging. Just choose share and your friends can receive the image clearly and instantly. Since the quality is top notch, you can easily zoom in on the screen and you will get a crisp view of the paragraph, word, or picture. Overall, this application is powerful, safe, precise, useful and, best of all, completely free. You do get ads for the free application but it isn't a big deal if you notice how much you're getting out of the application.
Sadly, the only letdown is that you have a limited amount of document uploads on the application and it isn't compatible with Google Docs because the JPEG format isn't supported.
Apps4Review Rating :   *  *  *  *
Download Link :  Download CamScanner-Phone PDF Creator.