Right now, there are many things you can personalize, including your favorite electronic gadgets.  We're not talking about stickers to put on your Android device, we're actually talking about toggle, weather and other types of widgets that will make your Android look unique.  If you're celebrating Christmas, it's best that you take your phone and put a Christmas theme on.  The same goes for Valentines, St. Patricks and any other holiday you want to celebrate.  Before you know it, you will have everyone asking where you got that application.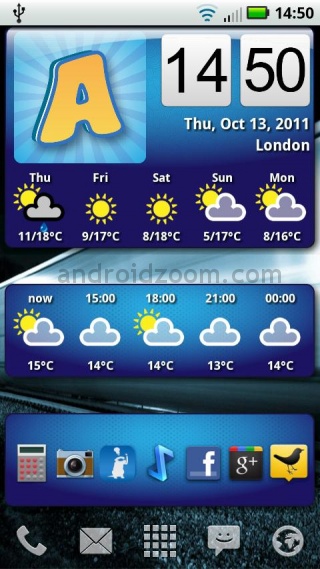 With over 400 home screens to choose from, you have enough options to have a different home screen every day of the year.  If you want an awesome toolbar to put many quick links to your favorite applications, you can download them through Sirocco Widget.  If you would like a personalized clock, all you need to do is choose the type of clock you can read!

Better yet, you also have the chance to have a preview of your widget and how everything looks before applying changes, making it easier for you to do things right the first time around.  Sirocco Widget has an overall score of four out of five stars, which is pretty good for an application that has just begun to gain popularity.
What is a widget without your own personal touch?  Sirocco Widget allows you to place your favorite pictures in the background of many widgets, making it easy for you to personalize and customize the look you want for your Android phone or tablet.  They also include a skinning guide, which you can use to find out what looks best on widgets and what you need to do in order to personalize your device.
App shortcuts are the best thing that could ever happen for phone users and Sirocco Widget allows you to exploit the power and minimize battery usage by including 12 apps in a single row on your home screen.  If you already own an Android phone, you may have noticed that you can only put four app shortcuts per row, which is why Sirocco invented something better.
Sirocco Awesome Widget Lite is the free version of Sirocco Awesome Widget Pro, the differences are notable and the price is not too high if you think about the benefits that this app gives you.  Sirocco Awesome Widget Pro has been rated 4.5 out of 5 stars and it gives you over forty customizable Toggles, Settings and weather widgets apart from the vast library that you already own with the lite version.  As far as weather widgets go, if you want a whole forecast for the rest of the day, you need to download the full version for only ninety nine cents.

The Pro version also gives you Flashlight widgets, brightness, screen lock, GPS, Auto Rotate and Auto Sync widgets which is a fair price for everything that you already have.  Although recent comments about the application have brought its rating down a bit, it doesn't mean that Sirocco Widget is a bad application.  With the pro version, the developers can figure out what bugs they need to fix in order to bring you quality within your application.  For example, one person claimed that they had ICS problems and in the newest update, they already released a possible solution for the ICS problems, which should not really change your mind about the application anyway.  As a Christmas gift, Sirocco has also released a Winter themed live wallpaper to get you into the Christmas spirit.  Again, the Christmas theme is absolutely free to download and it just shows that the developers care about the application and its users.
Apps4Review Rating :   *  *  *  *
Download Link  :  Download App Here