If you though that your iPod could already do everything, then you might reconsider that thought if you don't already have Eyeseeu.  Eyeseeu is an application that allows you to view everything that goes on in front of your iPod, iPad or iPhone.  What is so great about Eyeseeu is that you don't have to purchase any additional equipment, just place your device wherever you need surveillance and the device will record anything you want.  Watching what goes on is easy because you have live video surveillance and you can move the camera to different places inside the house.  In fact, you can have many cameras inside the same building or in different buildings, as long as you have a reliable internet connection, you can see what's going on wherever you are.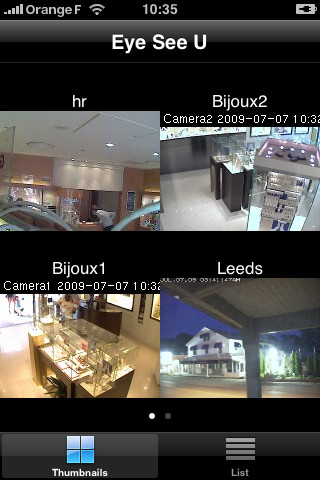 Apart from the live streaming service, you also have the chance to take still pictures from the camera for evidence later on.  The best way to catch a burglar is with a camera and your iPod has the best quality for the price range.  If you are not really into figuring out what goes on in your house, you can also tune in to cameras around the world.  With live streaming, you can easily take a quick trip to the Eiffel Tower or any other popular monument in the world.  If you're on a business trip, you can easily find out how the weather is with your iPod, iPad or iPhone.
You can place up to six cameras, which is great if you want one in every room or if you want one for each of the different angles in your room.  The image quality is MJPEG, not the best quality but it does do the work for you.  How much are you willing to pay for camera and security equipment anyway?  With Eyeseeu, you can be sure that you will have a great deal.  There are no third party applications on the program or your computer, which will not affect your system in any way.
As far as the reviews go, it is currently three stars and the reason for that may be that people don't really know how to set up their cameras.  The developer clearly explains on the application's page that if you need any help with the set up, you can contact him immediately.  Remember that this application is complex and the idea has proven to be quite unique.  The application has been recently updated with camera support in standard HEDEN and WANSVIEW.  This means that, if you have these types of cameras, you do not need to use your iPod, iPhone or iPad to record.  You do not need to conceal your valuables and you get the same service which is easily accessible through your device.  If you would like to see another aspect of your live images, you can purchase the Pan Tilt Zoom support for only $2.99.
There are many options with this application and the price is not too high, considering the hundreds you would pay for a regular security system.  The iPad has Eyeseeu HD, so feel free to try the application out if you have an iPad because the cameras and the quality are not the same.  You can find Eyeseeu through the iTunes App Store for only $1.99 and you may have already spent $1.99 on an app that is not going to be that functional.  For being one of the first camera applications out there, this one seems to be one of the cheapest and it also seems to have constant updates, so make that investment and try Eyeseeu today.
Apps4Review Rating :  *  *  *  *
Download Link :  Download EyeSeeU