If you want to control the way that you buy and sell for your company, B12 leads provides the best way to keep track and manage your leads.  B12 Leads is an important tool for marketers, sales manager and reps as well as their team.   Seeing how this app works can be as easy as using a live demo if you visit their website.  When you try out the demo or create your account, you will be directed to your Dashboard, which basically sums up everything you need to know in one page.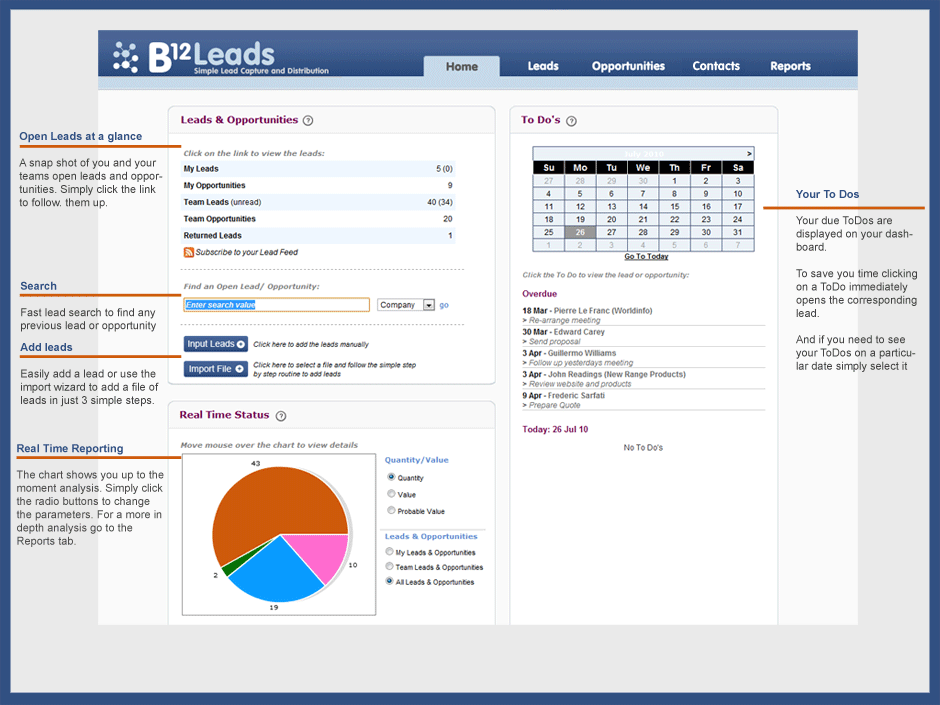 The snapshot are of the Dashboard pretty much shows your team's leads or opportunities, which you can access by just clicking on each one.  You also have the option to input new leads and import files.  Every page should have a search engine, so B12 Leads has implemented the search function on the dashboard, which makes it easier for you to find leads, opportunities and anything related on the website.  Your To-Do list contains a neat calendar where you can select upcoming projects by clicking on a future date.
The Dashboard also shows your progress in pie graphs, which you can manipulate by choosing a Quantity/Value option as well as a Leads and Opportunities option.  If you want to see a thorough report, all you need to do is access them on the tab.  With all the features that B12 leads include, it is not hard to find out how to import CSV files.  Uploading files is as easy as if you were using Facebook to upload pictures.
Setting up users is also easy, since you can automatically upload multiple users onto B12 leads.  You can also assign leads as they come to certain users and gain some feedback from your users to see if they're ready for more leads.  If you're hesitant to try this service, you need to know that you can try it out for thirty days.  If you want lead management without the work, the plan has a flat rate of $15 USD per user, per month.  The contract includes full customization, lead capture tools, landing pages, lead assignment, dynamic teams, reporting, backup and support.
Apps4Review Rating :   8/10
Web Application Link : http://www.b12leads.com/