If you ever sat down to read with your kids, you might have noticed that they sometimes don't see or visualize the story you're telling.  The best way to tell a story is by making it fun and interactive for your loved ones.  Children are used to seeing everything differently these days, with console games and electronics such as the Nintendo DS, The Wii, Xbox360 and PS3.  However, many games do not really teach children anything other than being stuck in front of the screen for more than two hours straight.  With your iPad or iPad 2, you can easily read to your kids using a fun, animated storybook called Eliseo and the Creature with Blue Fur.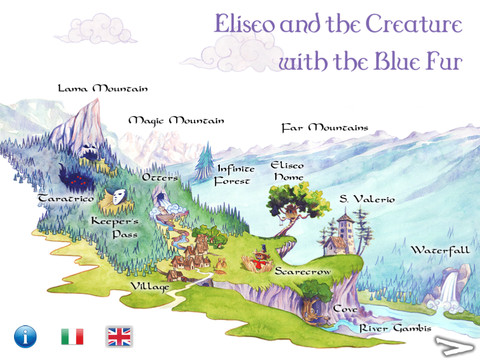 The animations appear to be magical and your kids will definitely love it and show it to their friends too.  Every animation appears on command, when you swipe the screen or touch the figures.  Instantly, you will hear the sounds associated with every action, in order to help you visualize that adventure.  Animals and blowing leaves can easily be a source of entertainment so that children can visualize what is happening in the story.  Eliseo is a kid sent on a mission to find the creature with Blue Fur and he always seeks advice from his friends.  Along the way, you find: Aldo and Otto as well as his confidants Scarecrow and Crow.  Once you open the storybook, you have many places to travel to in the map.  Your kids can easily pick this "book" up and choose where they want to read, which gives them the chance to turn into adventurers.
The images on this storybook look stunning, thanks to Tomasso Baldasarra, an Italian illustrator.  Speaking of Italians, this story can either be read in English or Italian, which is great if your kid is starting to learn another language at school.  We cannot give you any more details about the story, but seeing how the story develops as well as the animations involved, it really is worth it to read and enjoy every single night.  Music will also be a part of your journey along the way to find the creature with blue fur.
Having the advantage of having storybooks as well as entertaining applications is a blessing, since you can carry these with you anywhere with your iPad.  This provides entertainment for your kids for when you need it most.  If your friend brings her child over to work, you can easily suggest this application.  You can also let your friends know because a mom that comes prepared will never have to go through embarrassing scenes where the children cry because they have no toys to play with.  If you know a mom that really could use this application, you can buy it through the App Store for her because the price is definitely worth it.  For only $1.99, you can take advantage of these applications and features for people at any age.
Merlin Dreamlab, who claim ownership of Eliseo and the Creature with the Blue fur have also developed new books.  With Eliseo being one of the best storybooks, having the advantage of getting it for this price is something that you will never experience with other books.  Read the reviews from parents and teachers on the iTunes App Store as well.  You can also check out their Youtube videos which contain the animation commands as well as a quick overview of the story.  You can also check out what parents are saying on Twitter and Facebook, so ask them what is their opinion on the story.
Apps4Review Rating :  *  *  *  *
Download Link :   Download Eliseo ipad App