Have you ever struggled to work with a team under a certain time frame?  Clockodo may be just what you need, a time management application that can be easily accessed from the web on any computer or device.  The thing is that meetings aren't so productive when you have many tired employees on a tight schedule.  With Clockodo, everybody will sign into their account and they will be included in your network.  Clockodo allows everyone to be on the same page whenever there are certain changes going on.  Whenever you have various projects, Clockodo helps you spend the right amount of time on each one, so that you can meet the deadline.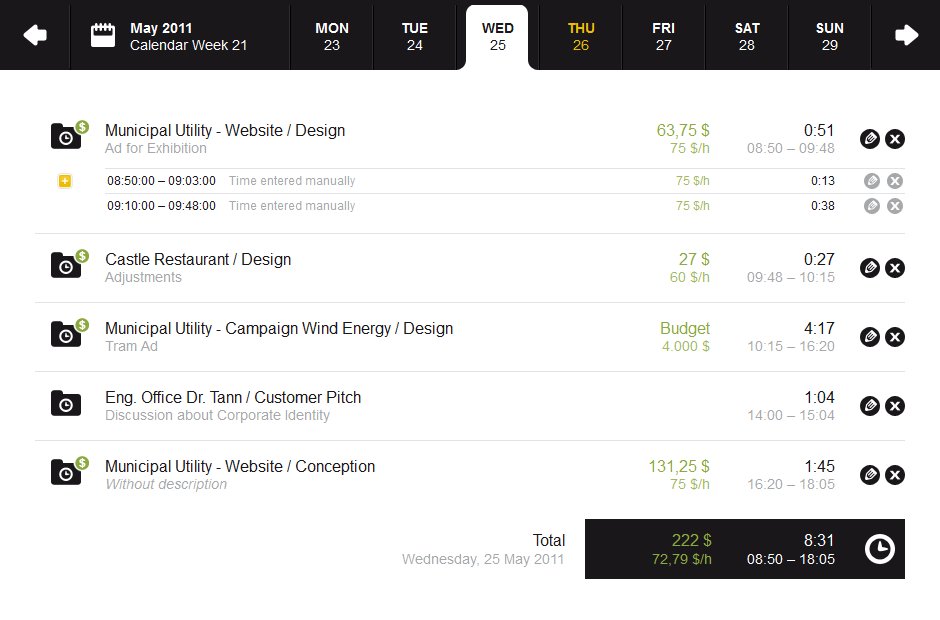 Whenever you sign-in on Clockodo, you will see a dashboard, which shows a summary of the time spent on each project.  The website uses pie graphs and other data, which is very useful whenever your boss needs a full report on what is going on with the project.  With just the click of a button you can easily change from personal time management to the companie's time management.  How do you track your time with Clockodo?  You get a nice watch integrated within the application.  All you need to do is log in and you will instantly find on the website and use it from there.  You can also download it so that you can use it on your Windows PC or Mac.  Whether you're offline or online will be no problem for any time tracking task, which is a good thing.
If you're using your time clock, you can easily manage and put in breaks as well as other tasks that come up unexpectedly.  These tasks will clearly appear on your time management report, which keeps things crystal clear.  Creating reports is as easy as gathering information and choosing how you want to display it.  You can easily choose and change from pie charts to bar graphs in just a few clicks, which make it much easier for users to present.  You are also able to add additional co-workers and give them permission to access company information right from your own home or workplace.  If you have a team working for a client, this could be a useful tool to keep everyone working with the information at their reach.
If you were using another time-tracking system, Clockodo can easily gather information and import existing data.  On the other hand, you can easily export data in .csv format, which is virtual proof of your working hours and needs to be in a safe place.  You can easily back-up your files on Clockodo in a few simple steps.  Clockodo also performs server –based backups, which is one of two security measures.  Each user can easily use Clockodo in their preferred language and time zone, which makes it easy to carry your job and time management overseas.  International teams can get the information right and in their own language, so there will be no problem with translation.
Time tracking with Clockodo can be as easy as paying eight dollars a month with a certain amount of users and every additional co-worker is five dollars extra.  You have thirty days of free trial without any credit card information up-front.  Your information will be automatically deleted within thirty days, so make sure to have your credit card information once you're satisfied with the service, within the thirty days.  Payment methods are safe, since Clockodo accepts Paypal and they do send you an email through invoice.  If you have any problems with the application, support is absolutely free and users can ask for help right from the login area.
Apps4Review Rating :  7/10
Web Application Link :  http://www.clockodo.com