Now there is a handy app with which you can find almost anyone in the world. It is called Osmino, what osmino does is that it provides information about anyone or any organization in the world. Phone numbers, mobile number, postal addresses, emails! You now get access to emails, messengers and even the photos of the person that you are looking for on other subscribers' mobile phone.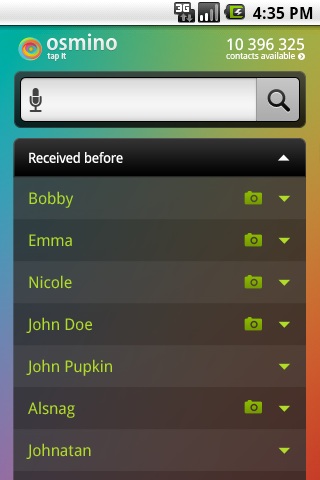 Osmino is an app that further removes the obstacle and hindrance of distance by giving you the access to millions of people around the world. Removing the barriers with osmino finding information about someone or some organization is now at your finger tips. Osmino lets you use the phonebooks of other people who have subscribed to the app but, obviously, this will all happen with the consent of the other people, people who are willing to share their information.
You can easily see the advantages of this new app. For instance, if you urgently require the medical services or any other service from any organization or you want to convey some message to a friend of friend or a colleague or a co-worker then certainly osmino comes into play. So you need not those reference books and yellow and white pages any more.
Moreover it also performs the function of social networking. If you really want to meet new people and enhance your circle of friends all you need to do is type the name of your choice in the search bar and the system at osmino will send you back the list containing all the possible information of that particular name. And there is also another thing here, unlike any social networking website where you can find tons of fake account with fake pictures, osmino will provide you with authentic and real contact that have been registered to osmino subscribers' phonebook. So, you can see the original picture and details of the particular person and start interacting with someone in another part of the world.
Speaking of meeting anyone, you can also hook up to the contact information and pictures of your favorite celebrities or anyone you are interested in. And the fun part is the application is totally free. There aren't any hidden charges or payments and neither there is any usage limitation. So you can use all you want.
The application is really simple to use and easy to install. After the app has been installed all you need to do is type in the name or surname of a particular person in the search bar and osmino will automatically search for the name or the surname in the osmino subscribers' phonebooks. It then sends all the information containing mobile number, addresses, pictures or any other information regarding that name.
It is important to note that osmino is totally an anonymous system and you never know who gets your information. And osmino does not store any contact information also. All it does that is saves the first and the last name of all your contacts' name.
Apps4Review Rating :  *  *  *  *  *
Download Link :   Download Osmino App