Spanish Smash Learning by Playing is a great and fun app developed by Native Tongue aimed for persons of all ages who want to learn Spanish. The android app applies interactive fun with learning in order to create a conducive game where you or your friends could spend tons of hours on it while acquiring the difficult knowledge of Spanish.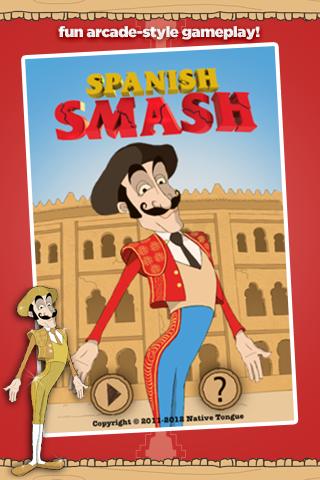 The App at first inquires you for your native language, which would be very helpful as this would mean people of all languages could utilize the application and use it to learn Spanish. Next, the game would then bring you to the main page where there would a picture of a matador and entertaining theme music. The music is both addictive and fun sounding, meaning you would never get bored of the song. The music is also true to the tone of Spanish music, with instruments like the violin and shoe tapping in play. There are 2 simple buttons on the main menu; one would be the Play Button and the other the Credits button. This simplified form of app is very beneficial especially for those who want their young children to learn Spanish; the layout would be just right for their developing brain.

When you click the Play Button, you would be transported to the game menu, where you could either choose between three fun stages. The one that I like most would the animals' one, where they would help you identify how to spell and pronounce each animal's name in Spanish. The words would come flying down from the topic of the screen where you would need to click on the correct animal that corresponds with the words. Whenever you get it correct, there would a fluent native Spanish speaker who would then speak that word. It had made me learn many new Spanish animals' name like Tigre (Tiger in English), Oveja (Lamb in English) and much more.

However, if you get them wrong, you would then incur a penalty where one of your "hearts" (the in game life indicator) would be broken. If all of them are broken, it would mean the end of the game for you. This is particularly fun and interactive for young kids and teens, where they would certainly crave that certain amount of difficulty. The app is also fast and interactive, meaning that even your kids would be amused and spend lots of time on it.

However, every app has its own unique flaws. Spanish Smash Learn by Playing certainly has a few. One of its most glaring flaws would be the definite lack of instructions. Like I mentioned before, the main menu only consists of 2 buttons, play and credits. There was no instructions provided by the Android App at all and this could frustrate many players, especially those that do not have any idea about what is going on. They could create an instructions page where users could view how the game works and the mechanics behind it which would allow seamless game play and many days of fun and learning.
Apps4Review Rating :  *  *  *  *
Download Link :   Download Spanish Smash