Notepadus Widget – Easy Way to Note it Down Quickly!
Just went for shopping but forgot your list of items? Or maybe you were watching TV and just came the food recipe you were looking for but just missed it as you forgot to bring the pen. Just think, what's better than to have this feature in your phone? Isn't it great if you can edit your list according to your needs anytime fast and even mail it to another person if you want to share data? However, there are many notepad applications already in the market, but they don't give you a real feeling as a hard copy notepad do. Well, no more missing on notes as Notepadus widget has arrived in the android market.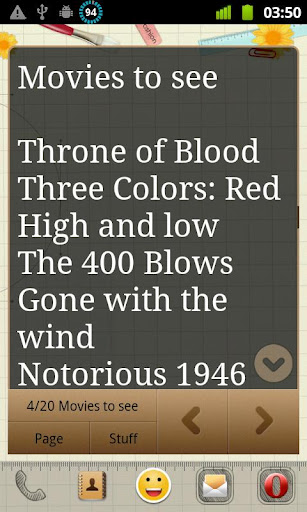 Notepadus, as already told, is a notepad application. There are many features which differ it apart from the crowd. First, it gives you instant access to your pages saved before. The page size is just perfect for making quick notes and lists. You can easily navigate between different pages by just tapping at the bottom of page. There's no need to go back and forth again and again. You can share your saved pages directly on Dropbox as it provides you with an option to Sync with Dropbox. Also, you can mail the pages directly from the app without having to open your email account to upload the list. Copy paste is very easily done and you can start from anywhere in the middle of the page by just tapping there. It really gives you a kind of freedom which you do enjoy in your hard copy notes.

The app works smoothly and there were no error reports encountered. The controls are simple and it is very easy to navigate between the options and the page. You can change settings in between a page and you don't have to save it first and then change the settings. It was a good feature. Also, the graphics of the app are simple yet nice. They were just perfect for such kind of an application. Other options include page color, which can set from white to black. Also, you can align the content to left, right or center and change the font, whatever you want.

There is no limit for the content on one page. You can write as much as you want. But of course, you can't create two lists on one page. It is not the way you want the job done. The app comes free for 5 pages only. For more pages, you will have to buy it. It costs around $1.7. The price looks a little bit high to me. But still, if you really need a notepad and are looking for a good option, then this may be right for you. There are no ads in the app which really needs to be there. Otherwise, you can imagine the irritation it would have created.

Notepadus is really a good app for the purpose concerned. It's difficult to find more features than this. Most of them are there. however, there could have been voice recognition so that we could have written the stuff just speaking as it is mostly required for quick notes. So, what's  next than to write with the speed you speak. But still, you should surely have a look for this one, at least, it's free version.
Apps4Review Rating :   *  *  *  *
Download Link :   Download the Application