Gambling is prohibited; but not on the App Store. The App Store is infected with hundreds of such apps; but only few of them were able to finally make it to the user's brain cells. The popularity of these apps lies in the fact that they let you enjoy the same paid slot features of the casinos at a much lower price or even free. Also, you can bet as much as you want and train yourself for the real deal like . Today, we have another such developer's wish. For more irish casino sites.
We are talking about the new iOS app, Born to be Rich Slot Machine, developed by smash Atom Software. The app is compatible with iPhone, iPod touch and iPad and requires iOS 4.3 or later version. It is also compatible with iOS 6.0. The app is a treat for the entire slot lovers' community with all the basic features present but highly polished for maximum user satisfaction.
The app features two modes: simulation and arcade. While arcade is the regular gameplay mode for beginners where you can learn new features and bet for fun, Simulation is the advanced level designed for professionals. It consists of mathematical models similar to real slots machines in casinos. It requires you to build a strategy and then place your bet.
To offer you a more versatile gameplay experience, the app features multiple games including Born to be Rich Slot Machine, Fluffy Dogs Slots, Spinning in Space, Mermaid Seas, and Coffee Break. All these games have some unique characteristic features e.g. Fluffy Dogs Slots is a 5 reel, 50-line slot game and Spinning in Space is the only 100-line slot game for iOS. So, there's always something new to taste.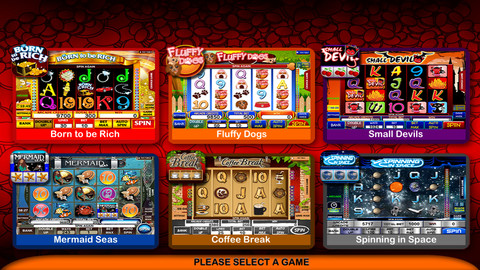 You can exchange your credits between the Simulation and Arcade account. Also, with hourly and daily bonus being added to your account, you'll roughly run out of credits. However, if you do, you can always fill up your pockets via in-app purchases for a few dollars such as $0.99 for 50,000 credits and so on. This way you can bet as much as you want but only after you have enough wins to unlock higher bets. There is also a Double Up feature which makes your earnings go at the double the rate if you keep on winning in a series of wins by guessing the suite of the winning card. You can also compete with your friends and find out the winner comparing your scores on the leaderboards and achievements table collecting 31 achievements in total on the way to your success. And at last, share your achievements and success story on Facebook, Twitter and email.
The interface of the app is easily navigable unlike other apps where everything is so packed that it's even difficult to find the controls. You can easily change the settings, transfer credits or switch between different games. Graphics are brilliant with some nice animations. With over 50 beautifully composed music scores, you can bet it to be one of the best slot apps on the App Store.
The app is available for free in the App Store. However, if you want to get more, you can upgrade to the full version for $4.99 via in-app purchase.
We truly recommend this slot machine app to any game lover and even beginners as this red carpet is a nice way to start your journey!
Download Link :    Download the Application