Forex trading is a part of every businessman's life. But no longer is it limited to the business class. Most of the people working in companies usually invest a part of their money as share holders of the big organizations and they earn a decent amount doing that. But decent money doesn't come along alone and there's lot of work and a busy schedule attached to it. Keeping yourself updated with all the latest changes in the stock prices and acting at the right moment is a must for a good trader. So not just checking out the stock prices on your iPhone or iPad is enough. If you can do the transactions as well, only then can it be considered a good app. Now, it's all possible with MetaTrader 4. So let's check it out.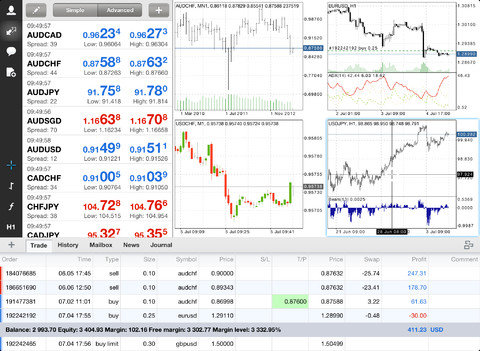 You all must be very much familiar with the iOS app called MetaTrader 4 developed by MetaQuotes Software Corp. The app is compatible with all the devices running Android 4.3 or any later version of the OS. The app has also been optimized for iPhone 5. If you have been into Forex traing before, then MetaTrader is not a name to miss. More than 1,400 servers of brokers are already trading on this platform.
First, if you're not an experienced trader, you can try their demo version and gain some basic knowledge about tactics. Then you may login with your account on MetaTrader 4. There are five different sections. In the Quotes section, you can see the latest updated quotes of all different currencies just like stock exchange. The charts give you details of the changes in that particular currency over the past period of time. With the compatibility of this app with iPad and latest retina display, you can see 4 charts at one time. The trader section is where you buy and sell your shares and may see your account details regarding profit, balance, bought shares by you, etc.
Now, you can also see latest news regarding Forex trading directly from this app. So the developers have actually designed a hub where everyone can come and trade. Also with the big screen of iPad, it's pretty easy to read and the fast graphics fully support it. The simple navigation is also user friendly. You have everything on your fingertips and especially with the big iPad screen, it's pretty easy to view detailed charts and place your orders. Also, you can see your detailed history logs in the history tab. So if you don't remember any particular trade you made, just check it out there.
The app is available for free in the App Store. Though the app can be easily used in the iPhone as well, its small screen poses a problem sometimes and especially during the charts. So now that the app is compatible with the latest iPad ratina display and loaded with news as well, most users will prefer to trade via their iPad than doing it on laptop.
Worth Having Application  : Download the Application