The Cleaner is a free application that can let you boost up the speed of your Android phone by cleaning out the junk, making more storage, removing all malicious app by uninstalling and improving the security of your smartphone. Your mobile domain is going to be clean in the end. The Cleaner has a beautifully simple interface and the app is light in weight. The memory of your phone is not going to get clog at all. It is a full featured phone boosting tool which can also play the role of performance optimizer. You can also clear up the cache files, SMS records, delete the unwanted phone calls and batch uninstall the malicious apps that land into your phone.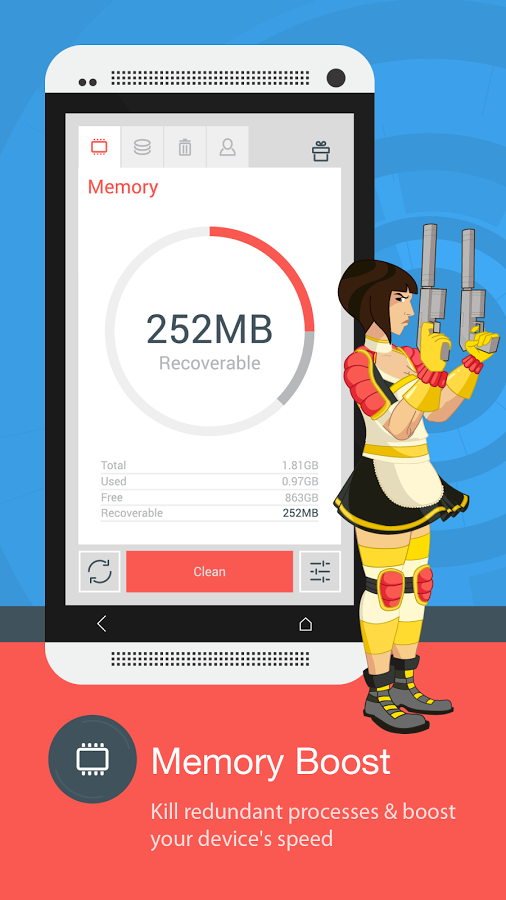 Features of The Cleaner:
It can free the RAM and boost the speed of the phone by ending all the redundant tasks running at the background.
It can clear the storage by deleting the junk files which include the downloaded APK files and cache files.
It lets you uninstall the unused and unwanted apps in batch.
It can clear your phone from all the malicious apps that may get unauthorized permissions
You can sort and delete old records from your phone
It can let you clean the long list of sent and received SMSs that are inconvenient to delete otherwise. (This feature is not available for AndroidKitKat)
The simple widgets appear at the home screen for improving the performance of your smartphone
The schedule automatic maintenance feature can let you keep your device running fast without any unnecessary interruptions
You can customize the looks of the app by choosing the theme you like.
The app is a worthy addition to any Android phone as it works without getting stuck or interrupted.
You can free download The Cleaner App from Google Play Store here