The fitness bug is here to stay. We all know health is wealth. At the same time, our busy schedules and laziness get the better of us. Every night, we go to bed deciding that we will begin our workout the next day. However, things are easier said than done. Your workout needs a touch of excitement and spice that will push you to it. The iOS app MotiFIT Run is here to help you out with this.
Today, there are plenty of health and fitness apps in the market. Among these, MotiFIT Run stands out very distinctly, thanks to its features and integration. This app helps you integrate in real time with your iPad, iPhone or Apple Watch. You can keep all your data and statistics organized in one single place. All you have to do is to set a target, set your pace and you're good to go.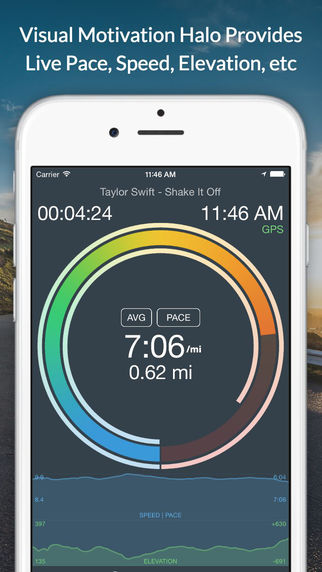 It has often been said that the best way to move ahead is to know where you presently stand. This app monitors your heart rate, pace and speed and shows them to you regularly. Knowing this will only motivate you more to keep going and never give up. The greatest challenge is to beat your own records before you plan to compete with anyone else. The elevation charts help you keep track of fluctuations in your heart rate and speed additionally. At the end of every workout, the app gives you a chart which summarizes all your hard work. It is a great tool to analyse your strengths and weaknesses and get started with working on them. Developer Slyvio LeBlanc has done a good job with the interface, adding a personalised Home Page from your last run each time.
Another interesting feature of this app is its live integration with route maps. This not only helps you widen your boundaries but also helps you keep track of the places you have been to and the distance you have covered. All the data and information you need is given to you in real time. A good number of metrics including Heart Rate, Elevation Gain or Loss, Pace, Caloric Burn, Speed, and Distance. All data is stored on the cloud and integrated with all your devices.
To add a fun element to your workout and to help you focus on it, you can play your favourite music on the go. To keep you updated about any important changes, there is voice feedback that will help you track your progress periodically. The app is also compatible with VoiceOver for iOS.
The joy of achieving and conquering your fitness goals no longer needs to be kept to you. You can share each of your runs on Instagram, Twitter or Facebook. This will not only help them stay aware of your constant progress but also motivate them to get started on their health and fitness. MotiFIT Run is compatible with the iPhone, iPod Touch, Apple Watch and iPad, requiring iOS 8.0 or later and 37.7 MB of memory space. It is available for free in the App Store and is surely worth a try if your health is a matter of concern to you.
Good: Voice feedback and graphical representation of data
Bad: None
Worth Having App – Download the App