Do you feel that your friends do not know you well enough? So far, there has been no way to find this out. Not anymore. The iOS app, Reveal- Ask me Anything, is here to change that. This app enables you to test how well your friends know you. And if you think they do not know you well enough, then you can remedy it through this app. Developed by Kindr Inc., this app will change the way you interact with your friends.
Just like Vine, Snapchat, Instagram, Twitter and most other recent social media, this app is directed at college and school students. However, it provides social networking with a twist. This app is centred on getting to know others. And this is accomplished through asking questions. Questions can be asked as yourself or anonymously. Anything from silly to serious is acceptable. You can answer questions in any form you like- with a photo, video, doodles and more. The answers you give can be set to expire after 24 hours if you wish. The answers you receive will take you by complete surprise at times. The most unexpected things about your friends will be revealed here.
Every social network that has made it big today has one feature that defines it. That defining feature for Reveal is the Reveal Coin. This is a crypto-currency for inviting your friends and for getting them to like the content you post. You can use it to promote your questions or collect them as well for future use. This coin acts to engage users, keeping you hooked for longer than you can imagine. It is your 'currency for attention' as it might get others who might not otherwise notice you to do so. It acts as your incentive to answer the questions posed by others. Questions posted on this app can also be advertised on other social networks including Twitter and Facebook.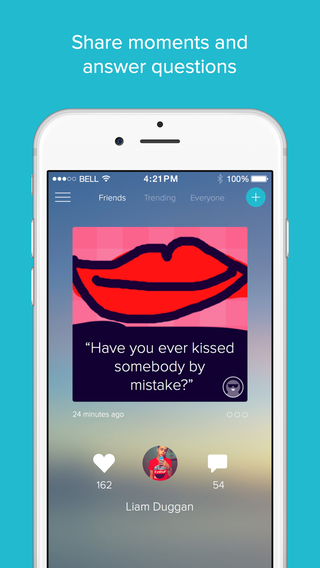 While most apps benefit from getting users to advertise them, none of them share their success with the users. This is where Reveal scores in the form of the Reveal coin. The developers truly believe that customers are important and hence reward users for inviting others to the app. Most other social networks earn through ads, which users find annoying and unnecessary.
The user interface has been designed such that it feels like your personal space. All questions are about you and the answers in the form of photos and videos bring out your essence. While it might be hard to make time out of your busy schedule to get to know your friends and break their walls, this app makes this task a lot easier for you. To add to this, the incentive scheme works very well, encouraging you to participate and present yourself at your best.
Reveal requires iOS 7.0 or higher versions and is compatible with the iPod Touch, iPad and iPhone. Additionally, it requires 51.1 MB of memory space and an open mind with a fresh perspective to get to know your friends better. To top it all, it is available for free in the App Store.
Good: Reveal coin as an incentive
Bad: None
Worth Having App – Download the App