Does the dark send shivers down your spine? Or are you brave enough to fight it? If you're willing to test that, then you have to try out 'Survive – Addicting Horror Game'. This game will keep you on your seat's edge the entire time. It's a matter of life and death. You wake up in a dark place alone. Someone is trying to murder you and you have to find your way out before your murderer finds you. The only thing to help you is your phone's camera.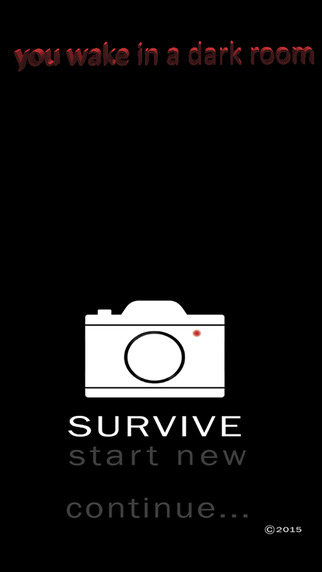 To build up the tension, the story gets better. The only item you have to guide you is your iPhone. Even in that, there are only two apps that work- the direct messenger banner on top and the camera. You have to figure your way out of the horrific place using the flash of your camera. The difficult part is that you cannot use it whenever you like. Each time you click a photo, the killer gets to know your location better. In a desperate attempt to survive, you have to use your phone as little as possible. The minute your phone dies, the clutches of death will get to you.
The idea of this game is to put the players under pressure and see how they handle it. After all, their life is at stake here. Thinking straight and thinking clear is the key to survival. You have to come up with a strategy that is good enough to ensure that you get out alive. Any flaws and your life is over. To add to the horror element and build up the pressure, an eerie environment is created with creepy sound effects and background music. Death is inevitable- unless you have a good enough survival plan.
You have two main resources at your disposal. You receive anonymous texts from someone who is trying to help you out. The second one is your phone camera, which too can be used very sparingly to view the rooms. Each picture will bring the killer closer to you. Moreover, it will also cost you some battery power. The sooner your phone dies out, the more likely you are to die too. Using it sparingly and using it well is your only way out.
If you get through this game without being killed, then you can always boast about having 'nerves of steel'. It is a grand achievement indeed to know that you can survive the worst and are brave. Getting familiar with the controls before you begin the game can help a lot too.
Survive – Addicting Horror Game, is one of those games that will help you test your courage. It is available in the App Store $0.99 at present. It is compatible with the iPhone and iPad having iOS 6.0 or higher. It is not supported on the iPod at present. If you like horror and adventure, this game is worth a shot. Push your limits and see if you can survive with this game.
Good: Eerie environment, concept
Bad: None
 Worth HAving App – Download the App