There is a huge environmental crisis. The environment is at stake, which implies that the life of the entire living world is at stake. Beavers are taking down trees very rapidly and it's your last chance to save the world. Do you have what it takes? We're talking about the iOS app'Beaver Smash'. Developed by Iron Ninja Games, this app helps you become aware of the environmental crisis in real life and makes you a part of the solution.
Beavers are taking over forests all across the world and it is your responsibility to stop them from destroying your world. You have to travel the world, killing beavers along the way. If you fail to match their speed, you will lose the earth to them. You have to smash them and knock each one out. Full of fast action and excitement, this game will ensure that you do not get bored at any point.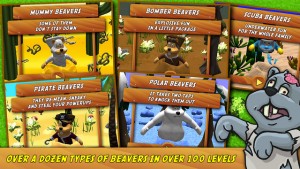 While the game begins off easy, it gets harder quite fast. The challenges are ramped up in no time with Power Ups, added bombs for you to avoid, and environmental helpers such as tornadoes. You can use these power ups to gas your way to victory, shoot or to zap your way. Keeping up with the increasing pace of the game is the tough part of the game indeed. There are lots of beaver types, each one having a special ability. It is your task to identify these abilities and use them against the beavers to smash them. As you proceed through the game, you will come across over a 100 levels- starting from really small easy ones to very trying and challenging ones.
The game comes in 2 different modes. The Impossible Mode requires being unlocked with medals from the previous levels. It is a true test of your skill against those who excel at the game. As the name suggests, victory seems impossible unless you are the best. There is an Infinite Mode where you can play endlessly while the game generates random levels for you each time. Modifications are added to the current levels to make the levels more interesting and challenging for you. If you have a lot of time to spare and wish to challenge yourself, this mode is ideal for you.
Another good part of the app is that all your achievements are recognized well. You can earn stripes for a huge variety of challenges in the game. To analyse where you stand, you can view a number of stats including percentage of trees saves, average number of Beavers tapped per second and more. Keep going and improve these scores with each game. Once you have hit a landmark, you can brag to your friends about how you played a major role in saving the world. You can share your achievements every time.
The graphics of the app are pretty well done, although they could do with a touch up. There is music customized for every location that you visit on your journey. It is available for free download in the App Store for all iOS devices, requiring iOS 6.0 or higher.
Good: Variety of levels and game modes
Bad: None
 Worth Having App – Download the App