myServiceJOBS is an app offered by myServiceForce that aims to meet all your work order management needs through one app. The company behind the app has been making software to help manage work orders for more than a decade. The app is one of the best complete suites in the category with one of the most compete and comprehensive set of included tools in the package. Best of all, it is free on the App Store.
The app offers features in a few key areas. It has great a great scheduling tool which allows multiple authorized users to schedule jobs from multiple devices. A supervisor can input a new order from his desktop at work and it will show up on the technicians schedule while he is out on the road. Additionally, each item can be given one of 5 status levels so all parties can be kept updated of the progress made on the job.
The app also has a dispatch function which allows supervisors or dispatch personnel to efficiently schedule technicians and jobs without overlap and confusion. Much of the process is automated so there is very little chance of errors in scheduling and double booking as confusing phone calls and time and resource wastage is minimized.
It also keeps track of all details of a work order and there are many customization options available so that the app works well for different types of businesses. Technicians will be able to make efficient decisions when it comes to time allocation and equipment and parts required. The app also helps to keep track of connected devices and their statuses from the supervisory base computer.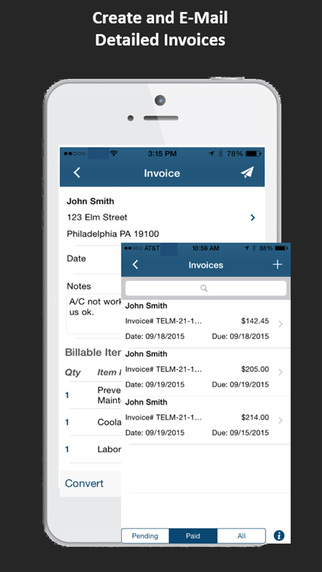 All invoicing needs can also be automated and handled by the app. As the app draws up invoices and can be linked to a portable printer for printing while on the site. It can also process credit cards and offers the ability to input signatures. This makes getting paid for work quicker and easier which is great for the cash flow of a company.
The app also integrates very well with accounting software like QuickBooks which reduces data entry mistakes. This also saves time and effort as all work order data is immediately inputted into the relevant fields on QuickBooks.
Companies can greatly increase their customer satisfaction rates as there are fewer misunderstandings when the whole process of work, billing and payment can be completed at the same time. The revolutionary technology also impresses clients and projects an image of a company that is constantly making using of the best technology. Fixed costs and operating costs can also be drastically reduced with more efficient processing of work orders. Additionally, the increased cash flow can be reinvested in the company for greater benefits. The amount of cash at hand for companies will increase drastically with instant processing of invoices and payments.
This app is definitely recommended whether a business is small or large. And with its free status, there should be no excuse to not try it.
Worth Having App – Download the App