Fantasy Leagues are meaningful only when you get to manage a real team or at least a team that is believable to be real. If you're managing Rooney and he's still the greatest player in the world of Football, then you're fooling yourself. Or if you have no Harry Kane as a part of your squad just because it's "unavailable", then you're managing an expired team and nothing more. But not only players, you need to make sure that every element influences the manager's ideas in the same way as it affects the thought process of Mitch Kupchak for Lakers. But this can only happen when you're part of an official fantasy league that's licensed to every key aspect of the game. I think I've got just the exact match for you.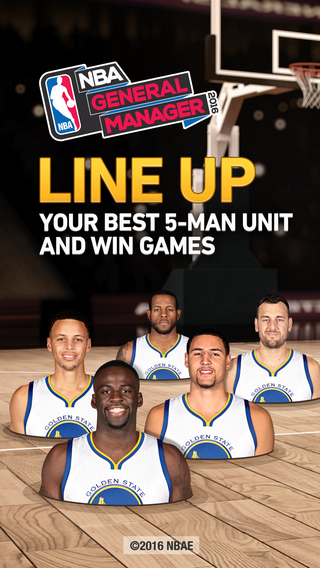 I'm talking about the NBA's official fantasy league, the new iOS app called NBA General Manager 2016 New Season that has been developed by From the Bench. The app is compatible with iPhone, iPod touch and iPad and requires iOS 6.0 or any later version of the OS.
NBA General Manager 2016 New Season gives you the access to all the NBA players from all teams. You'll be creating a team of your own picking the best players from all the teams. But wait! Do you think the other players will allow you to do that? I mean it's a game where you don't have enough credits to buy all of them. In the start, you can manage only one or two good players and from there on, you have to take your team to be the ultimate champion. Sounds like a tough job? It is.
Picking "good" players is probably the hardest job as a manager. You must be well-acquainted with your choice before bidding for him. Here, the players are valued according to their latest performance statistics and therefore you must find out the correct balance between the funds and value added to your team. Moreover, you can't just pick every good forward or throw your funds for every good center available in the bidding market. You have to find the right combination of them all. Otherwise, your team would be half-lost already before any match.
There are 3 different gaming modes: head 2 head, tournament or the league. These challenges are the testing grounds where you can measure your team's performance and they also get you points which you require to improve your team. You may improve your player's skills or buy power ups for your team. In any way, your team will be able to defeat even more difficult opponents.
While there are thousands of other managers up against you, there might be some of your friends in that long list as well. But treat them in the same manner as anybody else; nothing but a ladder to your story of success.
So what are you waiting for? The app is available for free in the App Store. I don't think you need any more reason to download this app.
Pros: intuitive UI; 3 different gaming modes; challenge friends; official NBA app; bid for your favorite players; free.
Cons: none.
Worth Having App – Download the App