Have you ever tried using an app that helps you lose weight by giving you accurate feedback on your day-to-day activities? Then I guess you may have used Pacer. Pacer is an iphone app that helps you track the number of steps you take while walking or running. It is particularly useful to overweight people looking to lose some weight. But before you decide whether to use Pacer or not, you will find this review helpful.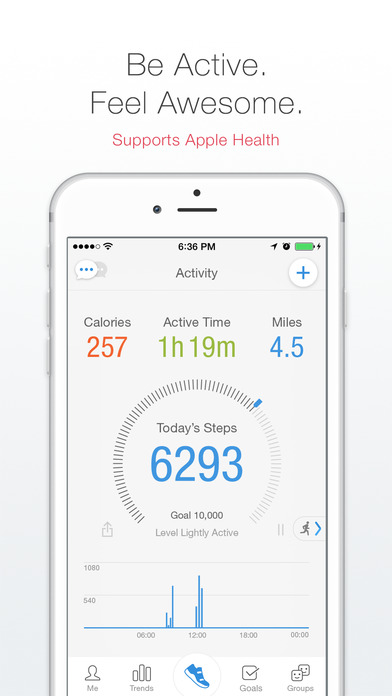 PROS
First of all, Pacer is a free app, and for what it's worth remains a personal favourite of many people who run or hike for the purpose of weight loss or anything else. You don't have to pay a cent to use Pacer. It is absolutely free to use.
As you continue to use the app, it will eventually – typically after a couple of days – begin to notify you of trends in your walk or run routine. This feature will give you a better understanding of your own performance, and in my own opinion, this is one of the app's best features.
Having to use Pacer without the need of signing up for any account was really a surprising experience for me when I used the app for the first time. You will not be required to submit your email address, zip code and what not when you start using Pacer. To be honest, this makes the whole thing very simple; but if you are more interested in an app that displays your data in a simple understandable and easily accessible way, Pace is not just your best bet
Pacer makes the walk-run routine a bit interesting too. How does it do this? Pacer has an active social community which its users can join. Participating in the activities of these communities not only help you connect with people of similar interest, but will help you set your own goals in your running or hiking program. However, since Pacer is quite good at getting its users upset, it retains its reputation by making i impossible for users to upload a profile picture when they join any of its groups. More of its weakness immediately follow
CONS
When you set up Pacer, you will need to keep your GPS enabled as the application works with it. But what gave me a different shock altogether was having to wake up to realised that my phone's battery is empty. Now this is quite bad. Really bad. The application drains battery even when it is not in motion. This is bad too. I believe the application will greatly benefit from a different kind of programming that will allow it to function only when the phone – its user – is in motion.
Pacer's tracking is system is simply mediocre if you asked me. Just a few weeks ago, I Pacer to track an early morning run and its performance failed to impress me. Compared to alternative apps I have used in the past such as Runtastic PRO, or any of the many apps that track outdoor activities, Pacer is nothing more than just an honorable runner up.
While it is possible, and actually better for the app to give you a typical analysis of your run such as a details of each lap completed – as is popular among its contemporaries – Pacer simply gives you a summary of the entire run; including a map of the areas you covered. Since most runners are interested in knowing their performance in each lap, such as the fastest lap covered in the shortest possible time and so on, it becomes necessary to state that Pacer failed in this regard.
Yes, it is true that you can backup all of your Pacer files in your iphone, and restore them to a new or different phone if the need arises. However, that is pretty much all you get. Need I tell you that Pacer crashes frequently when compared to its competitors. The implication of this is that you have to both uninstall and install severally.
Again, while other apps are programmed to gather weather information automatically, you would have to manually do it with Pacer: not as bad as it sounds if you do not mind anyway.
In summary, I would say Pacer has no really outstanding feature. There is nothing special about Pacer since it offers you just the basics. Compared to its competitor in the industry, it lags by a thousand miles.
Worth Having App – Download the App