In this age and day, mobile technology has really brought great things to us. If you're a nursing mother or a nanny, having a Smartphone such as an iPhone is enough to keep your baby entertained, lulled, or occupied while you 'steal' some of his or her time to attend to a quick task. Some smartphone apps are even designed to substitute storybooks and lullabies, and other traditionally ways you can think of using to get your baby to sleep, relax or stop crying. Some of these apps can surely make your baby's mind grow sharp, especially the entertaining and educational ones.
To cut to the chase, there are many different types of smartphone apps meant for babies. One of those is the Baby's Brilliant iPhone app, which as the name predicts, is compatible with the iPhone. But what is it and how can it help you and your baby? How can it make parenting and babysitting easier? Find out below from the Baby's Brilliant iPhone App review below.
What Is the Baby's Brilliant iPhone App?
Baby's Brilliant is an iPhone compatible app that contains multiple educational and entertaining presentations that babies and toddlers can highly benefit from as they grow. Some of these include read-along books, videos, animated kid's songs, classical music, and much more. The app is designed to interactively introduce the baby to the learning environment in a way that is playful, yet educational. The app exposes the baby to the learning environment, where they get to interactively familiarize themselves with the alphabet, numbers, colors, animals, shapes, and much more in a variety of languages that the parent or caregiver may choose for them. It also comes with multiple features such as interesting sounds, delightful animations, nightlights and other features designed to entertain, teach, and relax your baby.
Features of the Baby's Brilliant iPhone App
Sound and Music:
The sense of hearing is one of the most important senses in a baby, especially for toddlers, because you can help them calm and relax using the power of sound. The Baby's Brilliant iPhone App also comes with a wide variety of children's songs and music that is designed to help improve their coordination, memory, and social skills. I never had to sing a lullaby to lull my 7-month old baby boy, who is now 1 and a half years as long as my iPhone or iPad had the app and sufficient charge. In addition to lullabies, the app also comes with religious, educational, Spanish, and other interesting children's' songs.
Kid's Movies:
Motion images are a great way to learn new concepts, facts, and ideas, even for adults. The Baby's Brilliant app features kids' movies that are created to capture your baby's attention and enable them to familiarize with the world around them in an exciting and engaging way. These are accompanied with audio narrations in a child's voice (various languages) to help your baby learn better she or she tries to associate the colorful images with words. With animated kid's favorite songs like the ABC's, animals, and other child-related topics, the app can assist your baby to learn easier and faster when it comes to numbers and letters.
Nightlights:
Another interesting feature about the Baby's Brilliant app is the nightlight visuals it comes with. These are designed to have a cooling and calming effect to your baby and are mostly accompanied by the appropriate song options to help your baby relax and fall asleep. It also allows you to set a playlist and even loop it for up to an hour and a half.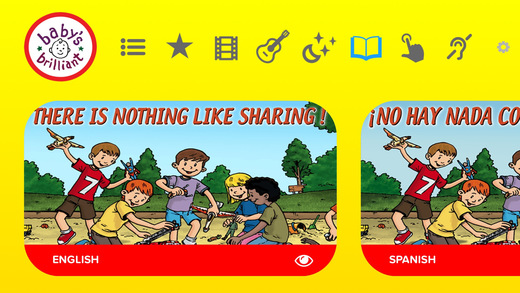 Conclusion
The Baby's Brilliant iPhone App can be an amazing solution to help your kid grow brighter and happy. It can also help him or her calm down or have a peaceful sleep when needed. The other benefit is that this app comes as a free in-app purchase that can be downloaded from itunes.apple.com. However, the latest version of the app requires an iOS operating system, version 7.1 and above. It is also iPad and iPod touch compatible.
Worth Having App – Download the App