This app is definitely for the sports-minded fans! The Kroo Sports app is informative, interactive, and entertaining, it even gives you an opportunity to earn credits which you can use to buy tickets to all of your favorite sports venues.
I thoroughly enjoy how this app keeps me up-to-date on the latest news for all of my favorite leagues and teams. The best part about this app, however, would have to be the "Kroo Credits." Kroo Credits are in-app credits which can be earned, or won and later used to buy tickets to the games that I want to see.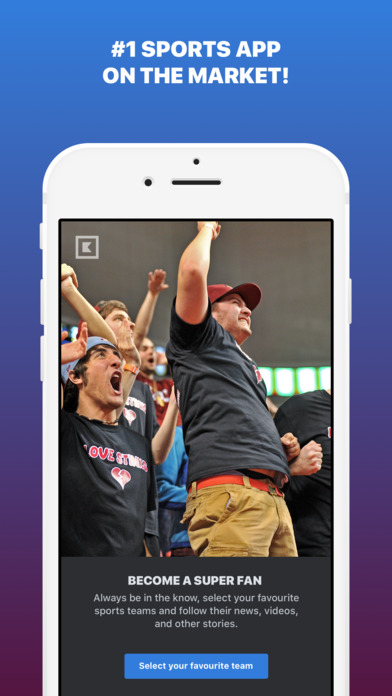 Key features I love about Kroo Sports:
Content that's selected just for you based on the teams and leagues that you've chosen
"Kroo Credits" which can be earned, or won and later used to purchase tickets to your favorite sports venues
Venue tickets cost anywhere from 10,000 to 25,000 Kroo Credits, and you will A get 2500 Credits just for joining
A referral bonus of 2000 Kroo Credits for every friend that you refer
Kroo Daily Raffle, where every day one lucky entrant wins 10,000 Kroo Credits
"Alerts" that keep you updated on all the latest news for your favorite teams and leagues
This app keeps you up-to-date with real-time news for all your favorite sports teams, including;
Football (NFL)
Hockey (NFL)
Basketball (NBA, NCAA)
Baseball (MLB)
The app's interface is very user-friendly and I had absolutely no trouble navigating through the various sections. While flipping through your Newsfeed you can flip over every news card that you've read until you earn yourself a 'Game Card', which gives you another opportunity to earn Kroo Credits just for playing an entertaining game.
The 'Store' is a really great feature! Once you've accumulated enough Kroo Credits, you can go shopping for your venue tickets from the in-app store. It allows you to order tickets to upcoming sports venues, which are organized by date and location. It conveniently tells you exactly which teams will be playing on your selected date and even gives you the option of searching for your desired team. I have yet to build up enough credits to purchase my first set of tickets, but at this rate, I doubt it will take me very long at all!
This is the only sports app I've ever come across that actually gives me an opportunity to earn my way right to my favorite sports venues live. This app is a one-stop-shop that will keep you well-informed about all of your favorite sports teams.
It has replaced the two, or three other apps which I used to use before I found Kroo Sports that is! Now I no longer have to have multiple apps stored on my phone to get all the news that I want to know about. This app is a blessing! It's saved my time, kept me informed, entertained me, and even freed up extra storage space on my iPhone when I deleted all those other useless sports apps that I had installed.
In fact, I can't think of one single complaint about this app, it's really great! I would absolutely give this one a five-star rating.