Whether you're purchasing clothes or cooking food, you're always in a situation of dilemma about what to buy and what to cook. Isn't it? Today, we want both things, i.e. we want to look good by maintaining ourselves and eat that food which is healthy as well as nutritious. We want to keep a balance between these two things. But the thing is we're unable to plan a proper diet chart if we want to lose weight, reduce disease risk and live healthier. In this present era of living, there is a lack of physical work, but more sitting work, that's why it's not easy for everyone to digest heavier meals. So to maintain a healthy living, I suggest you to use this app called 'Suggestic- Automated Nutrition Coach'.
It's like a personal diet coach for you who will guide you to make optimal food choices and find healthy recipes and meals at restaurants that match your diet. The app has been developed by Suggestic and has been covered under Health & Fitness category. It's last updated on June 12, 2017. It requires iOS 9.0 or any later version of the Operating System and is compatible with iPhone, iPad and iPod touch.
With Suggestic, you get the best dietitian in your pocket who is always learning about you and the latest nutrition science to offer you the best recommendations possible. Now the question is how this app works? First of all, you need to personalize your diet plan. For this, you need to choose your base diet, define goals, and add preferences and restrictions to get your personalized diet plan.
Secondly, on the basis of your personalized diet, you'll receive instant recommendations for  affordable and available restaurants near to you. They are the best to suit your diet, access to over 1 million recipes and more. Lastly, follow the recommendations and achieve your goals, eat what Suggestic discover and suggests for you. Stop focusing on what you shouldn't eat and get healthier!
This latest version offers you new and improved recipe view with nutritional information; richer and more powerful interactions for the most popular diets; intense bug crashing and improved the overall experience.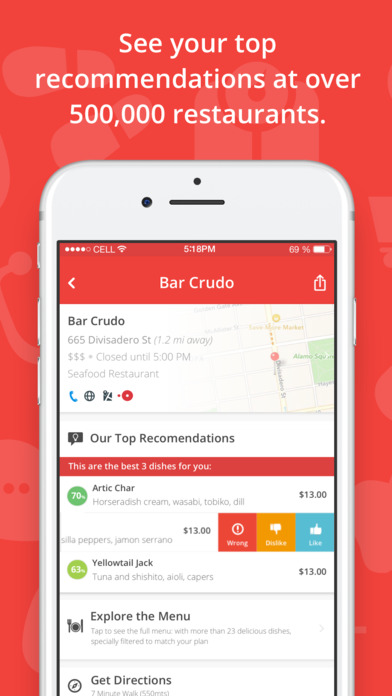 Overall, this app is just amazing and you should have an app like this to have a better and longer life. This app solves the problem of compiling favorite recipes while still keeping a healthy meal.
You'll never find such an awesome coach to guide you about what's good for you to eat and what's not.
Suggestic also integrates with Apple Health to further customize your diet and saves a lot of time. It will interact with you and recommend you what to eat and what not to eat so that they become more and more personalized which leads to efficacy.
So keep and remain healthy in a new way with Suggestic! Get it now before it's too late!
Pros: personal dietitian in your pocket; automated nutrition coach; suggest nearby restaurants with over 1 million recipes; controls your body; keep you healthy; free.
Cons: none.
I give this app 4.5 out of 5 stars.
Worth Having App – Download the App