The idea that one will pass away someday is not very pleasant but this app made me realize that it needs to be addressed, nonetheless. There are things that a person would like to happen in the unfortunate case that he/she passes away. After is designed to do just that – and do so in an intuitive and user-friendly manner. It is fairly easy to set up without seeming too intimidating (since we are dealing with the grave idea of death, that is pretty important).
Once you open up the app, you will be asked to create an account – which is as simple as giving your email-id and a password. Once you have logged in, you will be asked to create a 4-digit pin to easily access the app later. Then you will be asked to add your picture and name, accept the privacy policy and terms (and add your signature so that it proves that it is you), add 3 or more trustees, and leave a wish. You can later add more wishes if you like.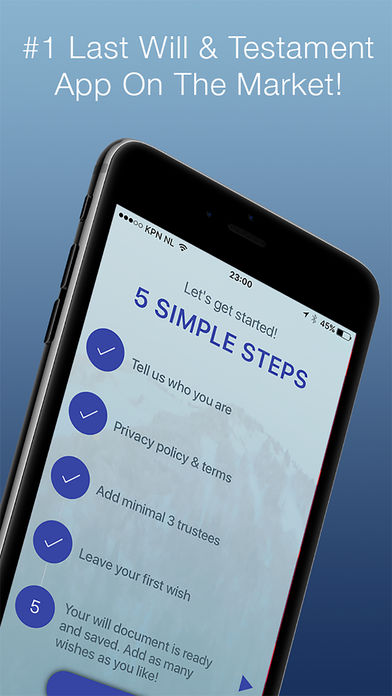 In case you pass away, the app will automatically send your will document(your wishes) to your trustees along with your signature. So if you had something you wanted to be done after your death, this is a good way to let the ones close to you know that.
PROS –
i) Very Intuitive – After. is a fairly intuitive app to use and not at all intimidating, and that becomes all the more important because the idea of the app focuses on death which is not a pleasant subject to talk about.
ii) Simple to set up – Everything took me about 2-3 minutes to set up from creating an account to adding information, wishes and trustees.
iii) Great design – Once again, since we are talking about death, a beautiful design which is pleasing to the eye becomes very important and After. has just that.
iv) Works as a time capsule as well – You can also set up messages including text, images, and video to be delivered to someone at a specific time (it may be years and years later if you wish).
v) Wishes are separated by categories – There are 4 different categories for your wishes – Personal Messages, Belongings, Funeral Wishes, and Things to Be Arranged. This makes it easier for you (and your trustees after you) to understand what you intend to do.
CONS –
i) Fairly new app – Since it is a pretty new app, there is not a lot of feedback about it on the store, and since most of the information which you might intend to store in it is sensitive, it becomes important to have the assurance that that information will be safe from attacks and prying eyes.
VERDICT – It is a good app which does what it intends to do in a user-friendly and unintimidating way. Even though one cannot be certain of the app's security at this point it time, this app deserves a try for all that it does.
Worth Having App – Download the App