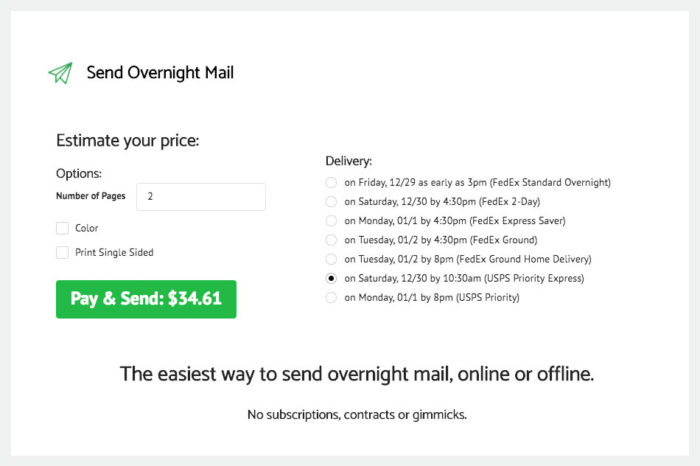 "Send Overnight Mail" is an awesome website that helps you to deliver emails in scheduled date and time, This is more usefull app mainly for business mails, Company mails, Work related, Meeting mails and Many more. Mails which you should send in particular time but you are busy at the moment or travelling in flight or unreach to your electronic devices or you are at any other work that you cannot send important email at the particular time, Overnight email webapp will help you to deliver emails to the end users in any where and any time, No need to leave your bench.
There are useful and many features that you cannot find even in your regular email providers. "Upload Files" you can attach files like PDF, Ms office related, Text files and etc of type from PC, Laptop, and other smart devices. The main feature in this webapp is you can upload files from dropbox. I like this feature that provides upload file from dropbox as well, you can send documents, scaned copies, reports, bills, business files, Company files, audit and many more.
There is an other beautiful option called "Multiple Delivery Options", you can choose two or more emails to deliver at any time, That depends on your email and delivery timeline. Makes you easy to send many emails at one delivery with different mail settings. This will help you like sending Mail for same person with different data and time, for example you can send company mails like schedule meeting for one day and having party email at another day at any time.
This email sender will not allow subscriptions,Something that is not serious or of real value that used to attract people's attention.
You will be sending many emails that you don't know weather they are delivered to the right email or not, There is an other option called "Conformation" that will track all your emails which you sent or ready to send, The webapp will generate a conformation email when ever you send,also you can edit or delete your email when you feel the sending of email is wrong while you conform,For example you mistakenly wrote an email to another person before you send to right person, before conformation you can check you email and edit your mistakes.
It will show you like a blue print of your email. Helps you to check your email with right content and meaningful subject lines with no other symbols are designs that will Spoil your content to the end user, makes your email professional and beautiful.
You can take support from this webapp by contacting or writing an email to the company with you needs, get good support for end to end usage with services, give feedback of owner service, we will be very happy with your messages.
This webapp will charge you for sending emails with a meaningful price, You can make the online payment to this service, This email service is more secured and trusted services.
Send mails faster, smarter and better way in short period of time like overnight, offline and online.
Worth Having WebApp – Try WebApp Today