Passionate or Bitter Sports Fan? Trashtalk Live is the App for you!
Recently released in App Store, Trashtalk Live is a social messaging sports app created as a platform for insulting the supporters of teams across NFL, NBA, MLB, and NHL.
The app is quick and easy to download, (as long as you are 17 years old or above), and is ideal for those of us who like to sit back and trade insults and profanities from the comfort of… well… anywhere with internet access!
Once the app is installed on your iPhone or tablet you are greeted with four major sports categories.
Choose from NFL, NBA, MLB, or NHL.
After choosing your desired sport you will be able to view any games or fixtures that are playing live at that very moment in time.
Simply click on your game and you can then pick the team that you are supporting. After picking your team you are directed straight into live chat with supporters of the rival team in live chat about the game that you have chosen to Trashtalk over.
Then it's really down to you! You can choose to insult players, offer a running commentary of everything that is great about your team, or a commentary on everything that's awful about their opponents.
You can opt for a hooliganistic approach, perhaps a pacified approach… Or even just insult the random supporter of the opposite team that you are thrown into a live chat with!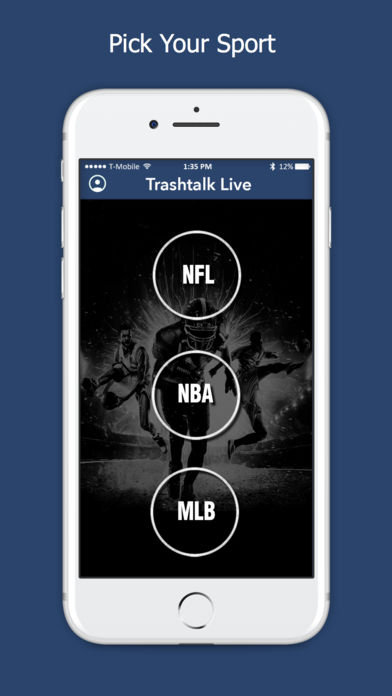 The Best Bits:
The app is well designed, smooth, and sleek. It offers access to all fixtures that are being played live across the four core US sports in real-time. Therefore, it can also be used just to check in on each game and find out what the scores are, before throwing an insult or two into the mix.
Trashtalk Live is only 9.8MB in size, so it's not going to chew up your memory or undermine the performance of your tablet or iPhone.
You can report or block people that are taking Trashtalk a little bit too far, getting personal, or using abusive/really offensive language.
All your Trashtalk is wiped within 24 hours of the game that you have commented on, leaving no hard feelings or paper trails from when you may have overstepped the mark.
Trashtalk Live is great fun and a good release for negative energy and opinions, it's meant for a laugh, and should be used to enjoy sports and have camaraderie with fellow sports enthusiasts.
The Worst Bits:
With this app being relatively new to App Store, it doesn't appear to have many users at all. I clicked on 8 different matches and started conversations from both sides that were playing. I received no replies whatsoever.
I'm sure that given time and promotion, this app will become very popular and have scores of people trading insults and banter.
The Verdict:
Given time I'm sure this app will flourish and become the go-to place for sporting insults. There's room for new features such as video calls and linking to social media.
With the right promotion and in the right places I can see Trashtalk Live becoming one of 2018's most popular sporting app's… If trading insults is your thing, download the app and keep your eye out for a spike in users and online traffic!
Worth Having App – Download the App