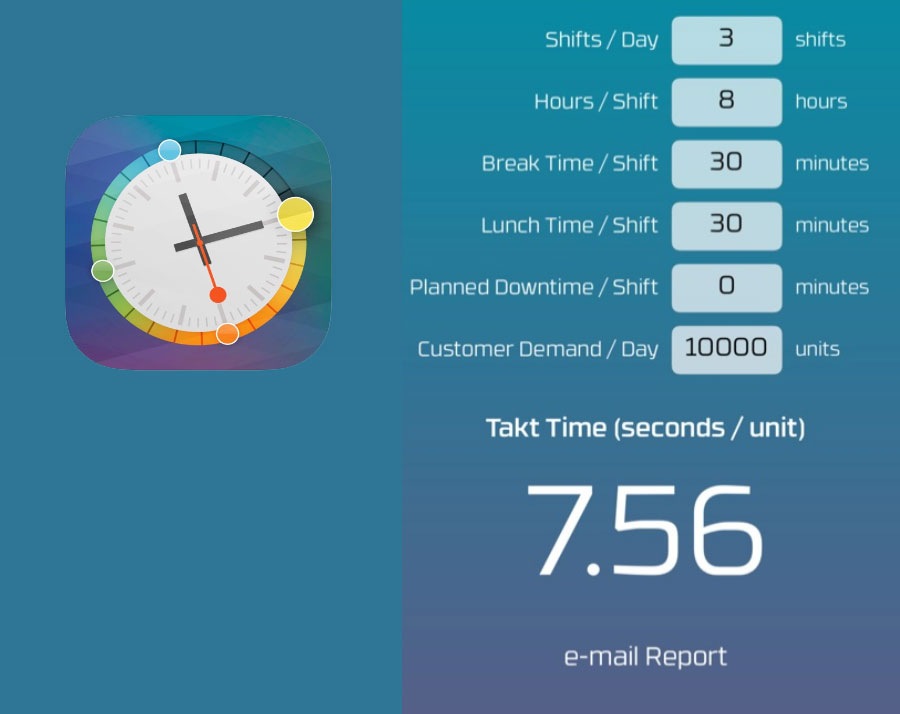 Getting more work done and boosting production capacity are big goals that every manufacturing business aims to achieve, but they are also goals that aren't always reachable easily. There are challenges to overcome before you can improve manufacturing output without adding significant stress to business resources.
Staying lean is the way to go if you want to limit costs – particularly overhead costs – while improving manufacturing processes. The process of becoming more efficient and staying lean is made easier now that there are business solutions, systems, and apps to help your manufacturing business.
In this article, however, we are going to focus more on the latter and discuss apps that can help your manufacturing business stay lean. Let's get started, shall we?
Takt
The name of the app says it all. This is the app to use if you want to calculate your takt time, which is an important metric in a series of efficient processes. Takt time measures the average time required to manufacture one unit of product.
Accurate measurement of takt time allows for better production planning. When you know your takt time down to the last detail, it is also easier to integrate other production approaches such as just-in-time and production-demand matching.
Takt itself is available for iOS and Android, so you can use any mobile device to improve your lean manufacturing process. The app also measures the production tempo of your line and can even help anticipate planned downtime along the way.
OEE Monitor
The same company that offers Takt also has a wide range of solutions for lean manufacturing, and the OEE Monitor app for iOS is particularly interesting. The app, as the name suggests, focuses on Overall Equipment Effectiveness and the metrics associated with OEE.
Using OEE Monitor, manufacturing lines can accurately set the right KPIs and measure different metrics in one go. You can immediately identify possible improvements to the manufacturing line based on the collected metrics.
OEE Monitor is a fantastic solution in a continues improvement cycle. It allows for OEE metrics to be recorded in a time-sensitive and contextual way, making improvements to availability of equipment, productivity, and quality easier to achieve.
Slack
Team communication is a big part of an effective manufacturing process. While there are a lot of ways for teams and team members to communicate, Slack remains the most popular solution on the market for manufacturing businesses. There are some very good reasons for that too.
For starters, Slack lets you communicate through threads and channels, which means you can structure your communications flow to the specific needs of your organization. You also have the ability to share resources, discuss specific tasks, and even automate certain things.
Slack is also easy to integrate with other business solutions. If you want your monitoring tool to send automated update to certain Slack channels, you can easily configure a Slack bot to handle the automation for you. Bots are very powerful too; there is nothing you cannot achieve in Slack.
Google Apps
Google Apps are also handy for manufacturing businesses. Being able to collaborate on documents, automate certain tasks, and share resources with other team members make improving production output and efficiency easier.
Google Apps are also available across multiple platforms, meaning you can transition from editing a document on your phone to continuing your work on a laptop seamlessly. Since most devices now offer ways to hand over what you're doing on the go to your laptop or desktop PC, working on documents stored in the cloud becomes incredibly easy.
Google Apps also has modules that can be used specifically in manufacturing. Google Sheets, for instance, can be combined with Forms and other products – including third-party plugins and tools -to create a comprehensive data pooling system.
Any Kanban App That Suits You
We were going to recommend one Kanban-based app or system, but there were so many that it is difficult to find one that suits every manufacturing business. Trello is a popular option, but it isn't always the best tool to use in more complex situations.
Asana, on the other hand, works well with fluid manufacturing workflows, but it is created to help those in the creative industry, so you will run into tools that you cannot actually integrate with your existing workflow. These solutions come at different prices too.
A good Kanban system is one that you can adapt to your existing manufacturing line instead of one that forces you to make big changes to your workflow. Since digital Kanban, especially Kanban apps, can be customized heavily, choosing the right app to use is a matter of finding one that you like best.
Toggl
That brings us to our last app: Toggl. We started the article with an app for calculating takt time, so we should end the article with a time-tracking app as well. Toggle is a pleasant app to use for monitoring work time. More importantly, it can help minimize distractions along the way.
When you run a manufacturing business while pursuing a masters in lean manufacturing from Kettering University, for example, you can work on your time management better with the help of Toggle. In fact, Toggl is a popular app among engineers who are pursuing their master's degree at Kettering University.
Toggl is available as apps for iOS and Android, but it goes beyond providing you with mobile apps. We really love the Chrome extension for Toggl, which further boosts productivity by limiting access to non-work-related sites. You can manage tasks, integrate Toggl with your calendar, and remove distractions effectively with this app.
There are many other apps that can be used to improve your manufacturing business. Automation tools are great for reducing the number of repetitive tasks you need to handle; this leads to gaining the ability to allocate resources – including team members – to tasks with higher priority levels.
The apps we discussed in this article also support automation and better integration to some degree. You can begin developing a stronger foundation for lean manufacturing and lean operations with the help of these apps.