Very few video chat apps succeed where other bigtime apps like Skype or Facetime dominate – and yet there are apps trending high in 2019 by filling in the space that these other apps are seemingly weaker in. One such app is Say For Android by Radiant.
Facebook is really great and serves a particular purpose perfectly well but also promotes businesses. Plus we feel compelled to add ever more people that we meet – even casually. And that's great – I love to see my family and friends and acquaintances too and what they're up to or thinking.
Facebook is not very private like many social apps and what silly thing you'd post or say to a friend or a group of friends isn't exactly what you'd want to say to your grandparents or an entire school.
Sure, there are options to personalize your experience and send a more personalized message to someone or create a group on Facebook Messenger. It's kinda clumsy and stale though compared to other apps that provide a more uniquely intimate and fun experience like SAY.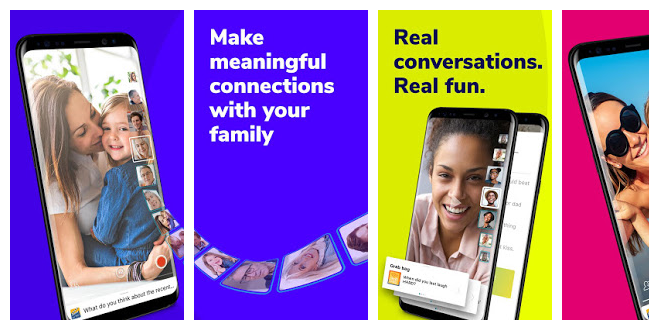 Keeping in Touch With Friends & Family Is Now Easy
SAY is a revolutionary video chat app that allows users to send videos back and forth to their more intimate friends and family. Thousands of people are discovering the benefits of this app every single day. Research shows how they love how SAY enables us to actually connect with our buddies or siblings.
SAY is not at all about sharing cute memes of puppies. Or trying to turn people on to your favorite songs. SAY is not really about posting your political views and starting arguments either or sharing photos of your favorite team or last meal.
SAY Video Chat for Android and for iOS paves the way for clear communication as you can directly chat in real-time as well as conveniently share your video messages with one friend or in a close-knit group.
This Video Chat App Infuses Games & Fun Into Conversations
With SAY – you simply make a quick video and send them to your closest friends or relatives. And with its game modules – you can easily introduce hilarious games that creates a string of hysterical responses to enjoy. Funny eye-rolling, non-stop laughter, big smiles and endless giggles follow and the experience is much deeper and more real than other video chat apps.
SAY's video chat games will get everyone involved laughing. Check out these popular games that are proven to spark deep conversations and lighthearted jokes:
Check In
Memory Cloud
Random Panda
Track Attack
Book of Me – and many more games…
Countless close friends and family members are installing and using SAY every day and love playing exciting games like the superhero themed 'VS.' where you pick and defend your answers. You'll likely make alliances for the fun of it and have ridiculous debates too.
Random Panda is another game that inspires crazy fun and offers random questions to your group. You'll love seeing what happens when your family and friends remind you or totally surprise you with their answers.
I played Random Panda with my two sons while they were away over the summer to test drive the app and sometimes we absolutely could not stop bursting into laughter. Tears were running down our faces. It was fantastic how a video chat app could bring us closer together in ways that would almost be impossible with other apps like Skype.
Connect or Reconnect With Your True Friends & Stop Texting
Video chatting in real-time has it's purposes and we all use these features for business and our personal lives. SAY offers this capability and much more for free. After using SAY all summer – I can highly recommend this app to anyone who is looking for a more meaningful relationship with those you choose to be in your group.
In this day and age when even close people become separated because of moves, changing jobs and schools – SAY is so refreshing in that it actually brings the people you want to be close with – delightfully closer!