While much of my free time is spent on playing volleyball these days, I like to take a short break every now and return to my iPhone platforms for some quality latest new apps. I find MoneyForLikes app developed by Anton Jones to be a better choice, since they're familiar and also pack in a quality amount of salient app features or the like involved somehow for users.
It is understood that if you like an artist's work, you can really appreciate it with a micropayment along with a "like". Also it is a virtual adaptation of the real-world phenomenon called busking or street performance where, if you like a street artist's performance, you appreciate their skills via donations & tips using special can or box.
MoneyForLikes adeptly offers artists, painters, performers, photographers, videographers and serious content creators a virtual space or street to perform and collect money. For audiences, MFL gives you golden opportunity to show to your favorite artists how much you really like their content and how much you're actually enjoying.
Besides many features with MoneyForLikes, you can be both a content creator and a content consumer or audience at the same time. You can trade MoneyLikes with fellow content creators, monetize your followers, and find out how much they really applaud the content you're creating.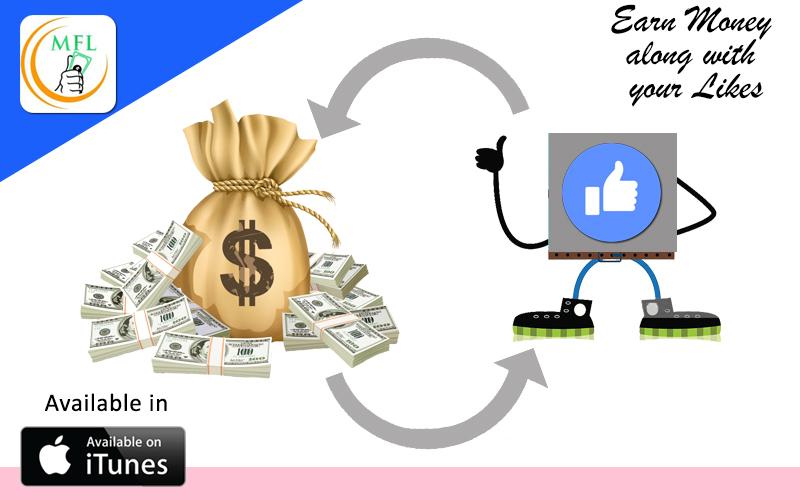 Salient Features of MoneyForLikes – Use MFL to
Post photos you want people to see. Edit them with filters and creative tools.
Post videos and audios you want people to watch and appreciate your for.
Browse photo, video and audio posts from other people in your feed. Appreciate the posts you like with a single click micropayment.
Add your favorite artists or content creators as connections and pay them directly if you want.
Buy Moneylikes, the local currency used in MFL, and use the same while paying to your favorite posts.
Check your Moneylikes balance and transactions in your MFL wallet.
Withdraw your Moneylikes easily to your bank, PayPal, Cash or Venmo account with ZERO transaction fee
It is your money
Definitely it's your Money you should decide who gets it and for what. When you put money in your MFL wallet it's your money, you control it.
Watch instead of follow
You can also invite your friends, family, followers and content appreciator to watch you on MFL. We encourage watching instead of following "who's watching who". What do you want to watch, who's the content creator that you want to watch and are willing to give MoneyLikes to instead of nothing likes.
No comments
Generally on MFL there's no comments if you don't like it get over it and move on don't comment.
Ease of Use:
The app of MFL is simple to use, do what you normally do in your busy day posting and liking content on social media. With MFL you have an even better reason to post your content not just for likes but for MoneyLikes. Push your content to other social media sites like FB.
Super easy editing
MFL top features comprise a photography editing tool to turn normal photos into eye catching works of art using the tone curve tool to transform a photo in seconds. Or add a filter or effect.
You can use MFL Offline
Amazingly you can use MFL off line no internet connection needed to use MFL even weak signal strength won't stop users from posting and sending or receiving MoneyLikes.
Verdict
I fell in liking with the several aspects of this MoneyForLikes app developed by Anton Jones because it was one of the few important features which satisfy all kinds of global users. To make things even more special, there are quality areas that users can explore, so there's number of reason to try every nook in this app.
DOWNLOAD FROM APP STORE :