These days, while a lot of my free time is being spent on Gym Workouts, I like to try out what's available on iPhone and Android platform for to exploring quality app. While searching out I found HELT – Home and Gym Workouts app developed by HELT Global Oy Ab as a splendid app that will appeal to anyone who is looking for a change.
With this app you can really discover wellness trainers, courses, live classes and videos that work for you and you'd love. Whether you're looking for yoga, HIIT, stretching, nutrition, bodyweight, mindfulness classes or searching to build your strength, lose weight, increase flexibility, reduce stress, fix your back and shoulder pains then HELT is the only app which satisfies all of your wellness.
You can exercise from the comfort of your home, during vacation or take a training program with you to the gym with on-demand videos and courses. Also take a live online class from home to exercise with one of our trainers and get real-time feedback.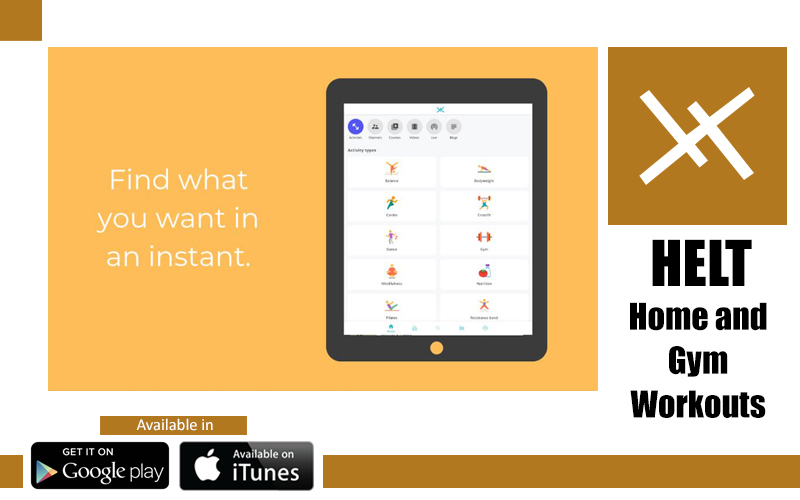 Discover
The users can find wellness trainers and actively check out the different trainers via HELT, see what they have to offer, compare them between each other and follow the best ones to get their content freshly served to you.
Follow
You can also follow wellness trainers to get updates. Moreover you'll be the first one to know when your favourite trainers publish new content. By this way you'll be served with fresh wellness content on a regular basis, which in turn will keep you motivated to exercise and stay healthy.
Customize
It is possible to build your personal wellness library by following your favourite channels and trainers, saving interesting health and exercise courses for later, booking live classes and liking videos. So by this way you don't need to always spend time on searching for something that you want. You can easily find it in your personal wellness library.
Stream
You can watch videos or courses and exercise at home, the gym, the park or the hotel. Stream on-demand anywhere anytime and select the right workout for that moment, hit play and break a sweat or get your mindfulness moment.
Verdict
I suggest giving HELT – Home and Gym Workouts app developed by HELT Global Oy Ab a try if you're in the aspirations for some unique Gym Workout apps and want something that is absolutely distinctive. This app offers a nice variety to the users that they actually find in App stores and Play Stores.
DOWNLOAD HERE: