It is learnt that expressions have been a part of us humans since we started to recognize things around us. They are further applicable for the virtual world; hence, we have our favorite tools, which we passionately call an Emoji or an Emoticon. To keep our emotion expression strong on the social media platforms we have various emoji apps. Animated 3D Emoji Stickers developed by DTIdeas is one of the best apps where you can express better.
The app can professionally access more than 600+ funny animated GIF emojis. For benefit of users this app is now available for you as chat smileys to improve your conversation. The users can simply enjoy this free animated emoji app with hundreds of cute stickers. It is possible to send a romantic love emoji, or stickers of hearts, congratulate to birthday and send beautiful flowers, or just good morning or good night.
Pick from 23 categories
The users can find emojis for adults and couple lovers, animated stickers of sport activities and national sports teams – football, baseball, soccer, cute animals – cat, dogs, penguin, monkey and much more. Everyday activities emoji, emotions, cool and food smileys are also here all together in 23 categories.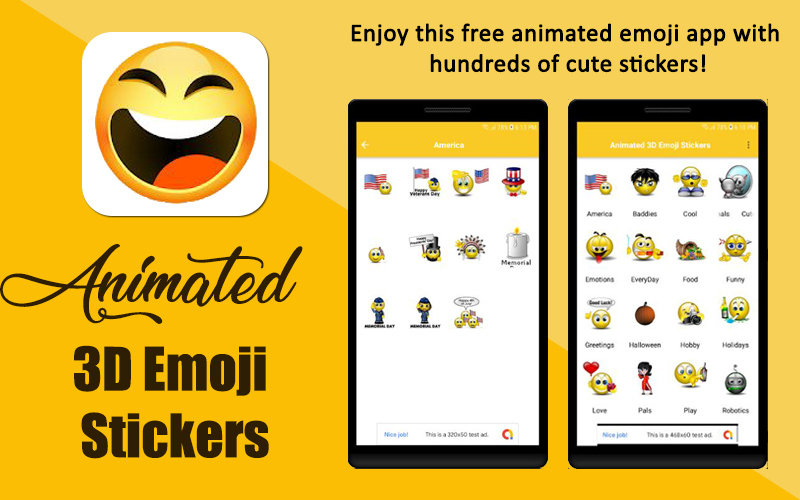 Excellent readymade solution
The users can come across the new animated 3D stickers for all chat platforms and regarded as the readymade solution of expressing the feelings. Convey the message or more vocal saying even without words. Moreover Emoji chat emotions are free smileys, funny stickers for your conversation with family, friends, and pals to make your chat cool.
Makes Chat interesting
By qualitatively using Animated 3D emojis app the users are making chat interesting in a sense of switching off from words and showing your love through love fever new stickers. The cool emoji stickers add color and vocal effects in messages.
Apart from other features Animated stickers make events and important ceremonies special. You can come across free message stickers for chat are here like to send flowers and cake, candy, firework stickers on someone dearest's birthday, make moments memorable by sending heart and romantic love stickers, celebrate others success and be the first to congratulate to many events with a new style.
It is highly praised that the graphics is finest with all its carved pictures and renovation of cute emojis. So say hello to friend with cat animated variations. They include hundreds of different animated emoji stickers for all occasions and the sender can use them for any purpose. Witness the beautiful variations of smileys with free. It would surprise the viewer and describe you more attractively.
Vital Features of Animated 3D Emoji
Good resolution and 3D animated images of stickers.
Different categories including Love, Anger, Holidays, Everyday, Animals, Sport, Funny and much more.
Send directly to friends with a few touch
A wide selection of funny animated stickers and gorgeous emojis
Add and save your favorite emojis in favourites.
Your friends and family can save the emoji that you send them.
Verdict
If you are searching for quality emoji sticker's app, then I suggest giving Animated 3D Emoji Stickers developed by DTIdeas a look. The various features that you come across fit the user's requirements rather well and are promisingly quality.
DOWNLOAD FROM PLAY STORE :