It is widely regarded that UVideo being the first of its kind to offer us the feature that users all have been waiting for "WhatsApp Video Status App" where you can browse through your friends & family latest and hottest whatsApp status and be updated before anyone else. Also get notified with their new whatsapp status.
More recently statuses has become a way of expressing thing, so at UVideo they like to make sure that you express your emotions and feelings well with this new feature. Here you will find unlimited Shayari status video as well, along with vast content library of latest & hottest videos in India.
It is possible to simply access top trending WhatsApp status, funny videos, Romantic quotes, sad shayaris or any kind of videos and share on your favorite social media accounts like Whatsapp, Facebook, Instagram with your friends and family just by one-click.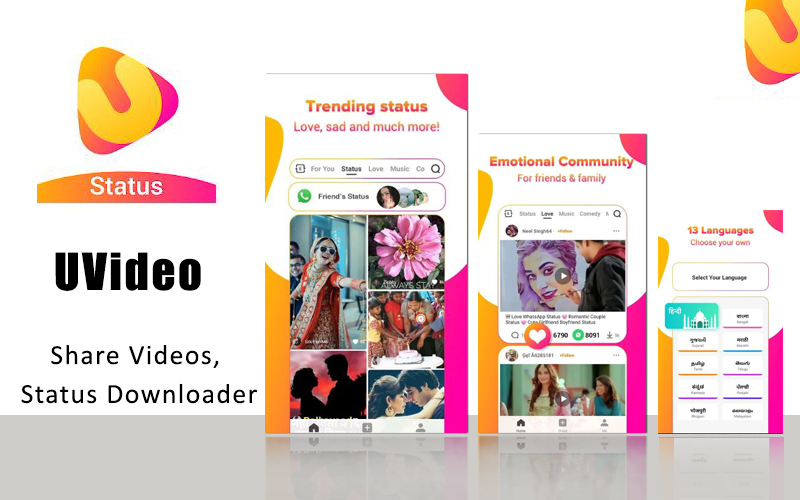 Important Features of UVideo
Friend's Status is top quality features that assist you get latest status of your friends automatically. Now UVideo provides you the opportunity to save all your friends status automatically in real time for free, your friend's status will only be visible to you and furthermore you can select to share that status in our platform and on other social media platforms. The status that you save will not occupy any storage or space on your phone.
The good part of this feature other than saving your friends status automatically is that you can browse your friends status anytime and anywhere in our app. You can download, share, publish and delete all in one click.
Get Real-time updates of latest trending status in India:
You will find latest videos of trending topics in India with different variety in large amount such as: Bollywood Gossips, Trending videos, breaking news, Sports, Music, Health, Religious and many more.
You will never miss a video on our watch as we will make sure we always provide you with the most popular and exciting videos of all time as we are known to be the pioneers of the videos we provide.
Get Personalized recommendation of the most selected and popular status for you every day
It simply recommend you the status and videos that shares your interest, exclusively based on what you like with the highest available quality and also suggest you videos that can be shared with your family and friends.
New full screen Video status and movies in 8+ languages, share various content instantly on WhatsApp and other social media site. The app strongly focuses on providing various contents familiarly such as: Love status, Breakup status, Shayari's, Lyrical songs, Festival status. It is offered in 8 different languages naming: English, Hindi, Tamil, Telugu, Marathi, Kannada, Gujarati and Bengali.
You can also experience several status of content that fits your mood. It can be shared with your friends and family in the simplest way possible that is just by one click.
Also simply download free unlimited and HIgh-Speed viral HD status and Video anytime and anywhere. Experience the free unlimited trending and latest short status video collections in various different categories which you can download anywhere even with low internet connection anytime.
Verdict
When I saw UVideo on the Play Store last week, I knew that it was unique that I had to try out, mostly because of the concepts and how it bills itself as a fantastic, how can I resist? The developer of this app certainly did quality job with key features, that's for sure.
DOWNLOAD FROM PLAY STORE :