We know that selling items on eBay could be attractive way to make money. With eBay business, the more streamlined and effective operations only succeed. So for increasing the sales users can use tools that save time and effort. I find this popular eBay Seller Tool is a must have app for new and advance eBay sellers.
If users are searching for a special kind of eBay Seller Tool to integrate into their business tactics, then eBay Seller Tool – Tips, eBay, Shipping Calculator app developed by proxsky will not surely disappoint. With this app one could find many features which benefit them.
Key Features of eBay Seller Tool – Tips, eBay, Shipping Calculator
EBay Fee Calculator
Calculator eBay Fee, PayPal Fee and Profit
Updated as of September 2019
USPS Shipping Calculator
Calculate shipping cost for First-class and Media Mail.
More Carrier and more shipping services coming soon
Tips for eBay Sellers
How to get free shipping supplies
Guide to eBay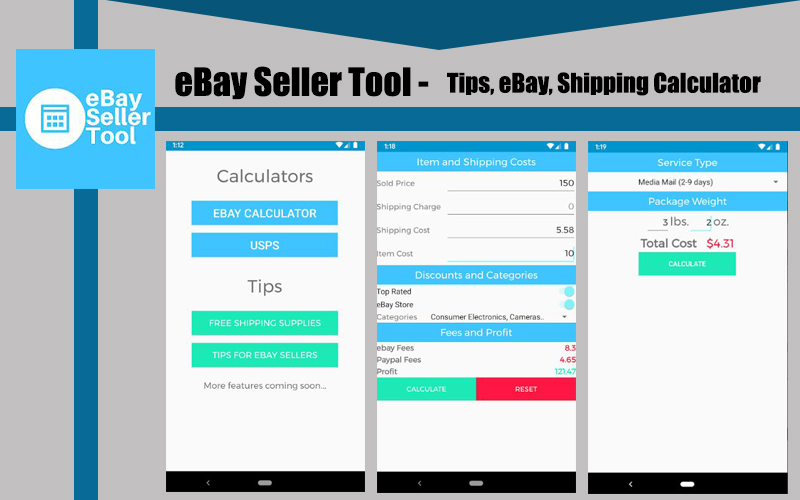 It is proven track record that they are the largest marketplace on earth and can be prosperous way for a business to make money. eBay could be extremely money pot for global marketers who know how to make the most of it and work smarter not harder.
For users doing all the work can be difficult. Fortunately, there's a quality app namely eBay Seller Tool that make life a whole lot easier. From features of using EBay Fee Calculator, USPS Shipping Calculator, Tips for eBay Sellers there's everything in this app.
We come across that most of the sellers perform tasks manually and waste precious minutes throughout the day. So when they can streamline certain processes then all those precious minutes won't be wasted. The users can professionally streamline and save some time using this eBay Seller Tool.
Verdict
There are a lot of tools to remember when it comes to selling online. Luckily, eBay Seller Tool app developed by proxsky is here to help out by simplifying matters greatly and easing your business.
DOWNLOAD FROM PLAY STORE :