The more we play this ingenious arcade shooter of Super Arc Light, the more it blows us away. So revolving back and forth along a circular track, blasting ships before they reach your base, seems pretty simple at first. But the brilliant one-touch control scheme where firing also changes your direction adds a deeply compelling wrinkle.
When everything clicks and you're timing your shots just right, it's wholly exhilarating. And the catchy soundtrack, gorgeous minimalism, and prevailing sense of polish just make the quest for high scores that much better.
Important Features of Super Arc Light
New difficulty mode Available – 3 Lives
New Weapon Selection Mechanic – you'll now be given 3 random weapons to select from – shoot the one you want
Score added during gameplay, and points value shown for each kill
Rebalanced some enemy behaviours, speed, and collision areas
Optimised Best Score / Final Score not matching if you kill something after you've died
Vital Gameplay Tips added to death screen Kill
Kill Speed Stats on game over screen
3 x New Music Tracks
1 New Enemy Type -big points bonus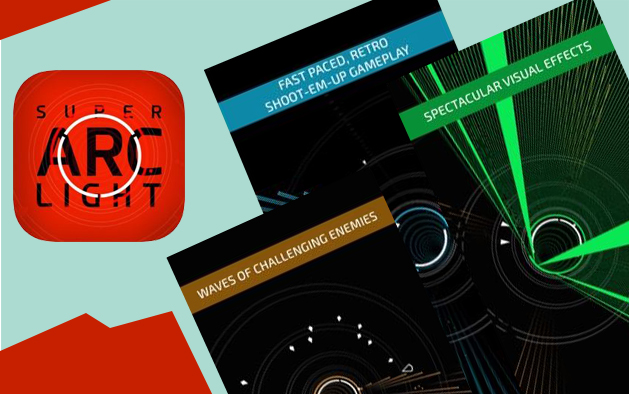 More Features of Super Arc Light
It is upgraded to 2.0 and better than ever
Made it easier
New easy mode for rookies
Made it harder and there are new enemy waves and types
It comes some balancing tweaks
Made it stattier
In this game of Super Arc Light you have kill speed stat which shows how your score is constructed and how fast you kill the enemy. They made pickups and new weapon type. Introduced and added new weapon choices in-game. It is made more musical and added three new music tracks for the ultimate accompaniment. They are also made with more optimal.
Verdict
I think Super Arc Light game developed by All 4 Games is total fun and interesting enough with important goals that it actually keeps you coming back for more.
DOWNLOAD FROM APP STORE :