An API is something that fetches you what you need by getting in databases or assets and services. A developer knows that API makes the work much easy and simple and the possibilities with the perfect API are endless. When you choose the right API, you need not work from scratch as building programs become a breeze with it.
One unique API that I came across recently is the Geocode API. When you want to make use of API's to Geocode address, this API would be one of the best options. Geocoding API needs to be accurate, reliable, fast and cost efficient. Tech Support and documentation are other additional features of the API that must be considered.
Geocode API has a strong infrastructure that brings results in real-time. Geocode API allows you to perform geoparsing and geocoding at scale. It provides worldwide data that is updated frequently. The API is fast, scalable and reliable and is made available in an easily readable JSON format.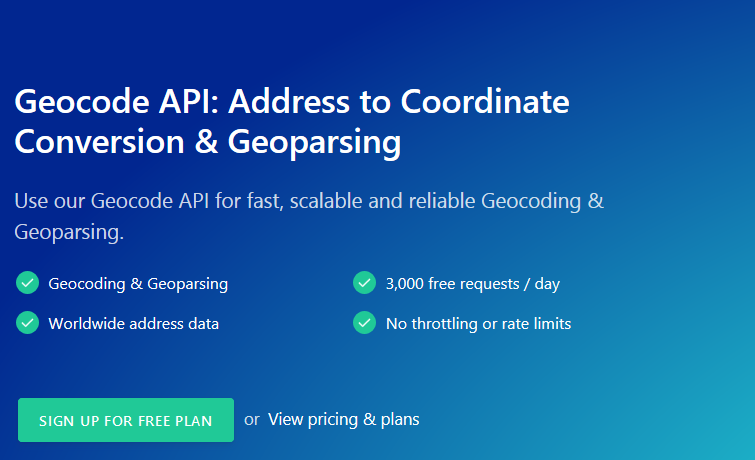 Some of the common use cases of Geocode API are form auto completion, data enrichment and data visualization. With form auto-completion, you can improve the user experience by providing a reliable location thereby enabling them to fill the input fields automatically. With this API, one can enrich the CRM data and also use the API to clean and normalize data.
The API comes with many fair pricing plans where you pay only for what you need. Apart from the free plans, the different plans available are small, medium, large and custom. The pricing is $85, $135, $300 and other custom pricing options respectively. The monthly requests, number of queries, support, HTTPS encryption and self or concierge onboarding service vary with the plan.
If you require high-volume of data, you can make the payments annually and avail discounts. All the plans come with unlimited support and service level agreement (SLA) by the company. The team responds to you immediately in case you have any queries. You can drop them a line by sending contact request to them via the website.
There are also a lot of factors that you need to consider when you have to make geocoding decisions. You must carefully consider every attribute and choose the one that best fit your needs. You can try out Geocode API for free and check the benefits for yourself. With a premium support, integration support and SLA with 99.9% uptime, Geocode API would be a wise decision for both your personal and business needs.
Worth Having App – Try Geocode API today