It is understood that personal stickers for WhatsApp have become part of our everyday life so most of us use them in texts with friends and family just about every hour of the day. They're exclusive way to add and have a little fun. Generally you could come across lots of apps available that let you add stickers but this popular wowTalkies app is one such application which is applauded from all corners of users and can access more personal stickers for WhatsApp.
What is all about wowTalkies
You can take a selfie and get personal stickers for WhatsApp which is generated automatically
You can get the latest cinema stickers as Tamil stickers. These stickers can be used as WhatsApp stickers or directly from app. Tamil stickers packs include Vadivelu, Santhanam, Tamil actors, Political, Text stickers
Follow the latest on Tamil cinema using our movies and feeds section. All content is curated and personalized. There is no stream for full movies in the app and only offer movie related news
You can solve crosswords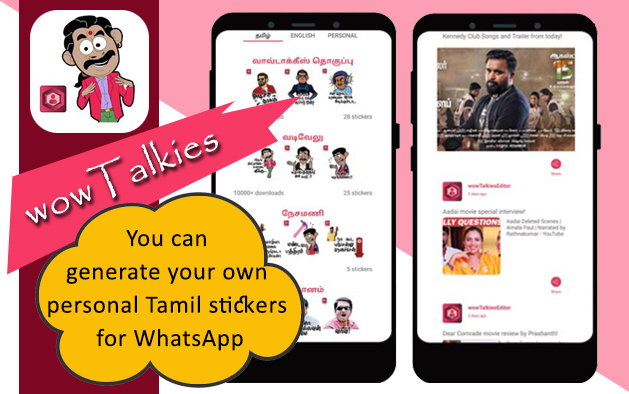 Key Details
The users can able to generate their own personal sticker's packs. All you need to do is take a selfie and will automatically generate the personal stickers for WhatsApp. These personal stickers pack also include a personalised emoji pack.
The sticker pack section is frequently updated so check this section out regularly. Also in addition to using the sticker packs as WhatsApp stickers Tamil, you can also use them to set the WhatsApp status.
You can use the sticker packs as WhatsApp status
Find the sticker in the app
Click on share button
Select WhatsApp
Choose My status in WhatsApp
Moreover this Tamil stickers pack includes the below packs that can be used as WhatsApp stickers Tamil / Tamil stickers directly from app. It is also available as English and Tamil stickers –
wowTalkies exclusive sticker pack
Love theme sticker pack
Vadivelu stickers pack
Actors sticker pack
Santhanam sticker pack
Cartoon sticker pack
Political theme stickers
Text stickers
The users can simply download the wowTalkies Tamil sticker's app now. It is the only Tamil stickers app introduced for sake of users. It is primarily seen that people mostly search for WAStickerApps, WhatsApp Stickers Tamil, WhatsApp Status Stickers, Tamil Stickers App, Tamil movie stickers, Tamil movie daily feeds and Personal stickers for WhatsApp.
Verdict
Bored of the same old Tamil Stickers? Let this wowTalkies app refresh your personal stickers for WhatsApp. For the developer's successful release on the Play Store, that they did a splendid job with important features.
DOWNLOAD APP FROM PLAY STORE :