Are you ready for a mountain adventure? How about getting along with a penguin on board? Wondering how? Yes, you can take the cute penguin named blue on his adventure in the ice mountains. Mountain Madness is an amazing game that features a penguin who moves downhill as he wants to escape the avalanche that is about to hit him. This game objective seems easy but it is actually difficult as you march towards the finish line.
Mountain Madness looks cute and has super-simple gameplay that allows for anybody of any age to handle. You help the penguin reach the finish line by avoiding all the tall trees that might kill him and also dodge the fellow trespassers. More points are scored each time you make a near miss and do not bump some where. And that's it. You get to earn more rewards and gather equipment as you finish. You can unlock more of ski or snowboard and other different characters in the game. The app may be best enjoyed by young kids who just like to watch the commotion.The levels as you progress and the number of coins that you have earned are clearly noted at the top of the screen.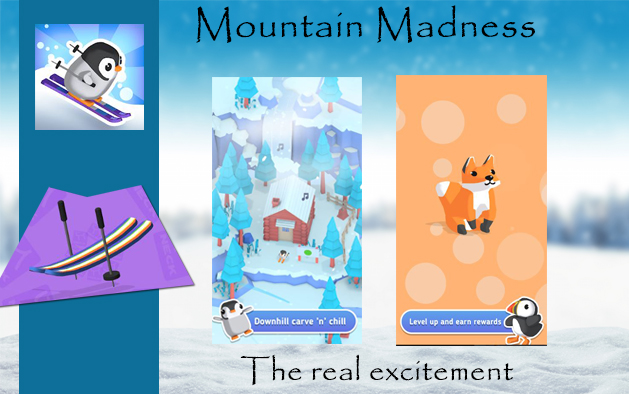 Beware you do not crash on a tree as you may end up losing a life. Whenever you crash in something you get thrown away and die. Other than the penguin, you can also choose any other animal like the bear, fox, chicken or panda to be the main character as you unlock them through an in-app purchase. An ad free version of Mountain Madness can also be purchased. The game is so colorful with a very neat user interface and good game controls. The sound effects, volume and the look and feel of the app is simple astounding. You can turn on/off the sound effects and volume as and when you prefer.
I enjoyed playing the game again and again and had great fun. It is definitely a keeper and you will love sharing your fantasies with your friends. The social media sharing options of Mountain Madness help you to share your achievements on different platforms like WhatsApp, Gmail and Facebook. I would love to see a pause button in the game that lets you to freeze when you feel like doing so. The app has both iPhone and Android versions and is a great time passer for all in the family.
DOWNLOAD FROM PLAY STORE :