I am working on a SaaS-Service in an SEO company and was on lookout for a Google Search API. Of all the APIs that I came across, I found one API that suited me the best. Using this API, you can obtain a plethora of benefits and I would like to share them with you. The SERP API named as Serpproxy has now officially become a part of zenserp.com, the most famous Google search API among all the professionals like me.
Serpproxy lets you to scrape the results from search engines in real-time. I needed access to the API and I contacted the team, they fabricated a custom plan for me as I had to process large volume of requests. Though there are many different plans available with this SERP API, the team is always ready to come up with a plan to tailor your varying requirements. I was lucky enough to avail a discount of 20% as I choose for an annual subscription. The complete documentation is made available on the website to make the integration process easier.
The other pricing plans are small, medium, large and very large. They all process certain number of requests with HTTPS encryption. The small and medium plans have limited support. The larger plans come with unlimited support and service level agreement. They accept different payment methods like credit cards (MasterCard, Visa, Diner's Club and American Express).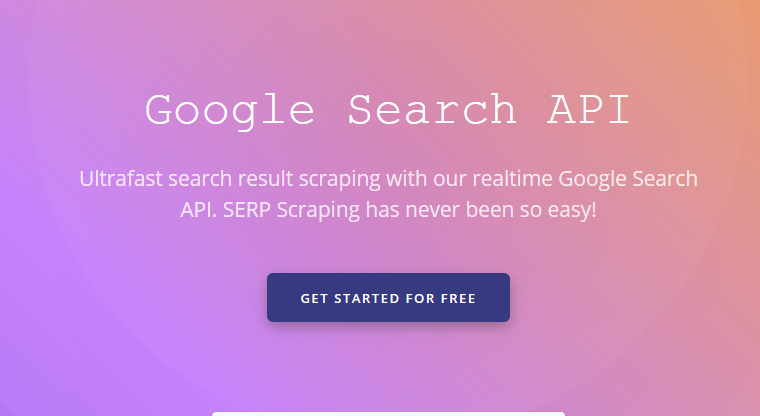 However, if you have any queries or other issues to be heard, the team is always there to listen to you. All that you have to do, is to drop them a line via the contact form on the website or send a mail to office@serpproxy.com. They provide awesome customer support at the earliest instant possible.
As you go to the website, https://serpproxy.com/, you can find a small API playground to stimulate a search. Just enter a keyphrase, a location, domain and language and you will get the SERPs. Many search parameters are available in this API to facilitate other search criteria. Using this API you can also perform location based and geo-located search results. The SERP API is the fastest in the industry and the search results are highly accurate. The strong infrastructure delivers highly scalable results with much performance no matter how high the request volume is.
They thoroughly track and monitor their service then and now ensuring their reliability and availability with an uptime of 99.9%. The invalid response did not affect my usage volume and I paid only for the valid responses. When you need an API for scraping, this would be your best choice.
Worth Having App – Try Serpproxy today