There are a plethora of snake games with original snake challenge featuring vivid colors and smooth, 3D graphics. Only a few of them are worth downloading and with Snakey in our adventure, you must control your snake and collect bonuses by dodging all the obstacles on path. As you plan your path wisely, you might end up with a new high score. The challenges of Snakey are bound to keep you entertained for hours together!
The different challenging modes are Mission, Challenge, Impossible, Speedy, Dark and Endless. Each level has the same layout but the task or objective varies. The Mission level gives you some mission like cover 50 meters, cover 75 meters etc., The Challenge level gives you challenges like collect 25 coins(diamonds), 50 coins etc.,  The Impossible level is the most challenging of all as it requires you to find your way with restricted vision and speedy snake movements.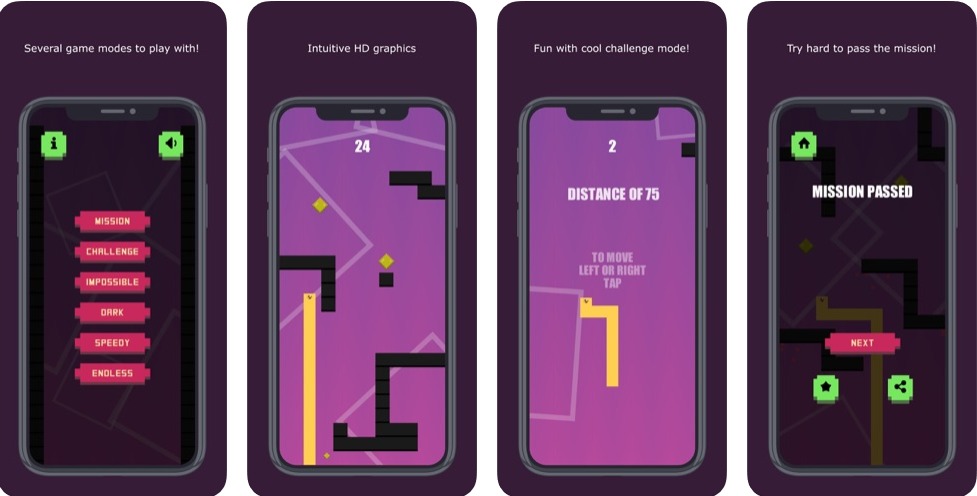 Speedy is the level in which the snake crawl is very frantic and you are supposed to attain your target without getting hurt. The Dark is the level where the view is restricted to a small circle and your focus is limited to that area and you have to slither your way making a guess. The Endless mode offers endless snake crawl with no missions or challenges. In all these modes of challenges, your hand and eye co-ordination plays a major role.
The background music played during the game is brisk and it adds more flavour to the game. With unlimited fun and thrill, the game is one of its kinds and I recommended it to many of my friends. Moreover, the controls of the game are so smooth with a simple two touch to operate the snake movements left and right. Just tap on the screen left and right and the snake moves accordingly. Snakey is so colourful and the graphics are of high-definition and is so neat.
The app is completely free for use and there are no hidden charges. The team of Tupilak gaming of Greenland wanted the players to enjoy the game for free and hence they have come up with this unique crazy snake challenge. The app suits all iOS and Android devices and is rated to be 3+. I am damn sure that all the kids and adults will enjoy this game to the core. There are also options to rate the app and share the accomplishments with friends via social media like WhatsApp, Facebook, Gmail and the lot.
Find your way through the obstacles and try to score more with Snakey. Let us see how long you can survive in this crazy snake challenge….
Worth Having app – Download the App