Media is something that takes news to the people. It is a mirror of what is happening all over the world, but today most of the news sources are biased and we never know the exact story. It is a sad thing to see that we are subjected to believe false news. The reason is most of the media sources are leaned against some political parties and they give us only what they want us to hear.
This unbiased news app, Newsvoice that belongs to the News and Magazines category focuses on delivering the right news about USA and the world. The app gathers news from many sources: international and independent, like the Vox, Fox news, BBC news, NPR and the lot. It delivers US politics, USA news, World news, Business news, Tech news and Crypto news from several channels. It helps you get an overview of the facts from all the possible angles. It clearly gives the details of the news sources along with the tags to specify the political leaning.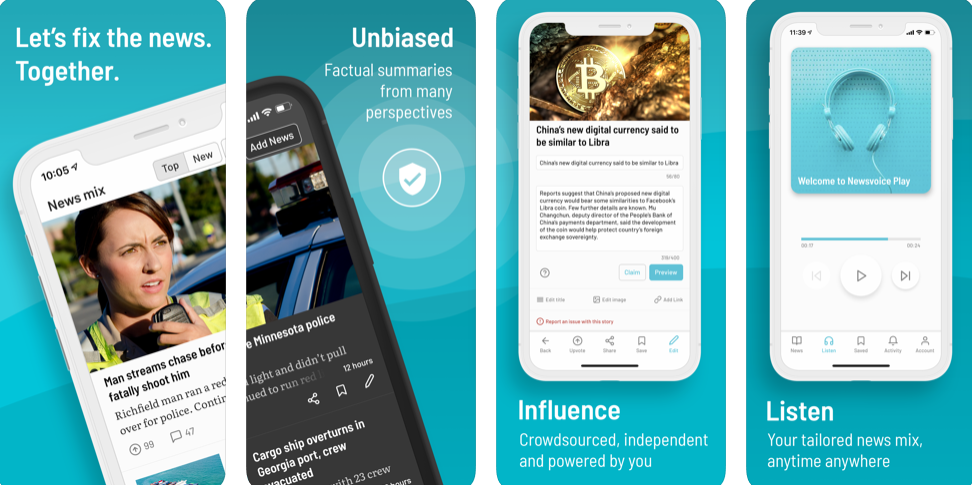 News voice is not like any other common news channel/app. It is crafted for the community and crowdsourced by the community. The concept behind Newsvoice is to help you analyse the various perspectives of the news from different sources, gather the other readers' thoughts and find for yourself the genuineness of the news. When you have control of what you hear and know the correct news, you will be able to make better decisions both as an individual and as a citizen of the nation.
Most Notable Features of Newsvoice:
It is unique by all means as it focuses on unbiased news.
Newsvoice has many options that allow you to edit, comment, share, upvote and save the news you read.
The exclusive 'Newsvoice Play' option helps you listen to the news anytime and anywhere you want.
The app helps you comment on the news you read and also share the insights with other readers.
The notable 'upvote' feature in the app helps you to mark that news you feel important so that the other readers might be benefitted by reading it.
The interface of Newsvoice is well-designed and can be operated with ease. The app can be downloaded for free on both iOS and Android devices. It is suitable for all those in the family above 3 years of age. When you want to give any suggestions or have some queries to be answered, you can contact them through email info@newsvoice.com. The app is crowdfunded by individuals and by contributing to them you can also stay ad free and independent. 
Worth Having App – Download the App