iOS App Store recently had a new app introduced under its News & Magazines category. This is the Sophrosyne app that was launched in early November for iPhones and iPads that operate on iOS 8 and higher versions. The app, sized at 74.9MB, takes you through 10 intriguing stories by the author Felix Long. If you have a flair for solving mysteries and answering the Whodunit, then this app is for you.
The app is not free but is definitely a steal deal at just under $3.00. When you select the app from the App Store, you are welcomed with three screenshots. The first screenshot gives you the definition of the term 'sophrosyne' and has three buttons titled 'Also by Felix', 'The Muses' and 'About'. When you click the 'Also by Felix' button, you will get a list of the other works by the author. 'The Muses' tells you about the stories that feature the nine Muses or Goddesses in Greek Mythology. All the stories in Sophrosyne are based on them, with one Muse for each story. The 'About' button shows you the version of the app.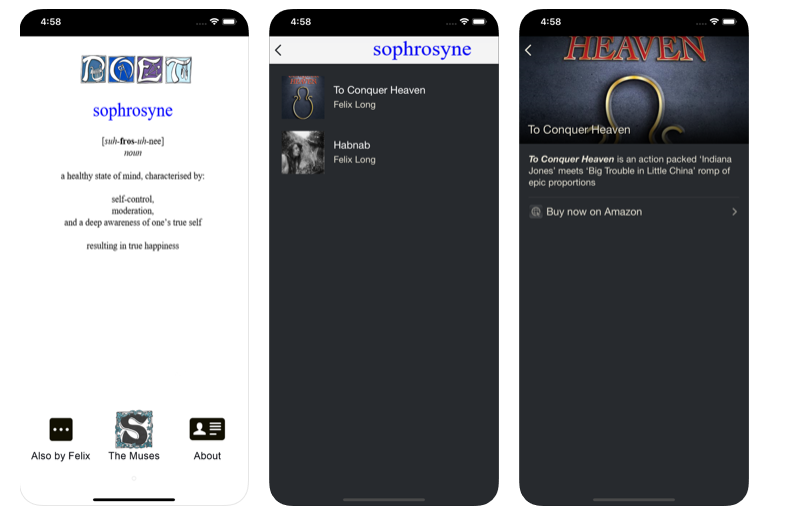 Didymus is a fictional town with a lot of shame and secrets surrounding it. Suddenly, from nowhere, nine hysterical women appear with only magpie feathers covering them. Soon after they arrive in the town, a series of deaths begin to occur. Each death is uncannier than the previous one and this makes solving the mystery complicated. The nine women represent the nine Muses or Goddesses of Greek Mythology. Each story is of the right length so that you do not get bored and are impelled to read on to unravel the mysteries.
If you have an Apple device and love reading but have very little time to lay your hands on a book amid your hectic schedule, Sophrosyne is a must-have app along with your other apps. One single app gives you the pleasure of reading 10 books! Each story is gripping and you will have a tough time closing the app until you are done with all the stories. So, what are you waiting for? If you have an iPhone or iPad with an Internet connection, then all that you need to get started is the Sophrosyne app from the App Store. It will take less than a couple of minutes for the download and installation.