If you have a kid at home, you might be used to teaching them different words with action. This is because the human brain processes visual medium faster and hence learning becomes much easier. When kids are taught action words at an early stage, they will be able to learn complex language lessons in the future in a short span of time. The app, Action Words: 3D Animated Flash Cards was developed with this concept in mind.
Powered by Kids Learning Apps, Action Words is an educational app that would be best suited for children who are 5 and below. It teaches children different action words like kick, catch, jump, cut, climb, brush etc. Action Words would be more helpful for teaching children with autism. Visual prompts are powerful in assisting children organizing their language in their heads and are more helpful to those with autism spectrum disorders.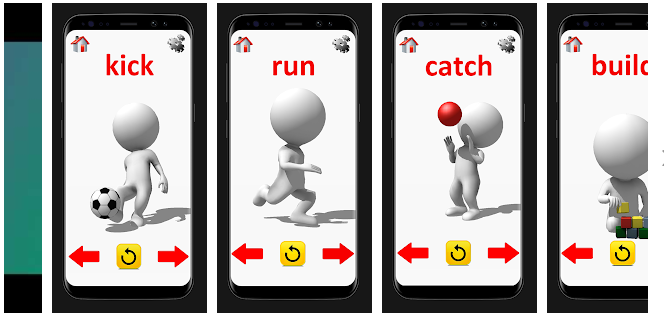 As you open Action Words, you have a 'Play' button and 'Settings' option. As you start with the play button, it displays a word along with the voice on the background pronouncing the word. You can also see the action performed in the Flash Card. As you swipe to the next card, you can see/learn the next verb. Similarly, the app contains 45 different words to learn without any struggle.
This way, you can help your kids know many new words before they even start their schooling. The 3D animated flash cards bring the action words to life. The app lets you to pick a card of your choice and play them as and when you want. These action words are fun to read and act out and are of high interest. The settings let you to 'Turn On/Off' certain options like sound, display words, etc. Using these features, you can just ask your child to re-enact the words, pronounce them loud, and execute other learning activities with them as well.
I, as a parent of my 2 year old, loved the app a lot. It was of great use to my toddler who has learnt many new words from it. I wish to see more words getting added by the team in the near future. The interface of Action Words is very neat and easy to use. It will serve as a great learning kit for toddlers, and pre-schoolers. When kids see and learn them, they will also be able to act out when you ask them to. You can see your child become a storyteller very soon with this interactive and intuitive learning app.
Action Words is completely free for download and is available for all iOS and Android devices. You have a 'Get Full Version' button that allows you to enjoy the ad free version for a price of $1.99.
Worth Having App – Download the App