If you're a passionate fan of Android games with little to no guidance, well, Candy Slices developed by Cosmos Games Dev will be right up your accolade. While this app greatly appeal to most of the gamers, I like being thrown into a fascinating game of interesting aspects what I'm supposed to do, particularly during amazing sweet candies world genre.
Candy Slices is a free merge puzzle game full of love and joy. Moreover if you love candy and puzzles then you will love this candy maker game. You can solve puzzles by selecting the right candy slices for every plate and unlock exciting levels and game bonuses.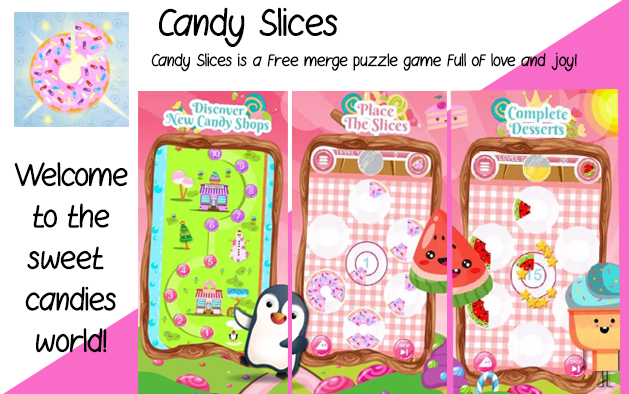 You can solve Candy Puzzle
The users can enjoy delicious desserts by solving one of the most exciting sweet puzzle games. Also you can easily view the next candy slice to decide your next move wisely. Amazingly you can solve the puzzle in as few moves as possible to pass the levels and win more points.
Quality Candy Maker Game
You can play the most delightful and relaxing puzzle game along with colorful desserts and candy shops. The users can complete the slices on the possible plates to fit each plate. Every time a plate is full you will get closer to your goals. So begin your journey to the Candy Slices world and explore the sweet candy shops on the map.
Experience the exciting features and challenging levels
Candy Slices is filled with countless challenging levels and exciting features. While enjoying different kinds of candies, you can solve puzzles with your gaming intelligence.
You can enjoy features like:
Skip Button Feature – You can use this to skip the current slice to next random one.
Move Button – You can use this button to get an extra move.
Ice Breaking Button – Use this to break the ice on the plates and create empty spaces.
Golden Bonuses – You can place them randomly in empty spaces on the plates.
How to play Candy Slices
Simply download and launch the dessert cooking puzzle
Tap on the play button and select a level
Begin the candy games and solve puzzle strategically
Tap on target plate to place the candy slice
Align all the pieces in right places to solve puzzle
Refresh the total number of puzzle pieces by clearing a plate
Unlock new levels and bonuses
Important Features of Candy Slices:
Experience the challenging candy maker puzzles
Completely free to play
Simple UI suited for all ages
Incredible visual effects for exciting candy puzzle experience
Impressive background music and sound effects
Variety of new magic challenges
Shining yummy candies
No time limit on levels
Easily addictive candy jigsaw puzzle game
Play online or offline anytime, anywhere
Sweet candy levels and desserts always up to date
If you are ready to jump into the world of desserts by playing one of the most popular candy 2020 games then this candy puzzle adventure will keep you challenged and entertained for hours.
Verdict
I strongly suggest giving Candy Slices developed by Cosmos Games Dev a try if you're in the mood for some unique game and want something that is absolutely distinctive. It perfectly offers a nice variety to the users that they actually find in Play Stores.
DOWNLOAD FROM PLAY STORE :

Website : https://cosmosgames.me/