Forex market has proved to be the most beneficial and flexible market for all financial traders in recent times. Also called as 'Foreign Exchange', forex is a global decentralized market used for trading currencies. When you enter into forex you do not require a huge investment like the other markets. Instead, forex allows you to open your account by using fractional fee. Through forex market, you can start small and grow big. Time flexibility is one of the reasons why you should start trading in forex. This market floods with currencies of different countries every day for 24*7. 'Azu – Forex beginner's course' is a mobile based application that is developed especially for forex.
Through this app you can receive instant forex alerts and currency alerts like forex, commodity, index, multiple currency and crypt alerts.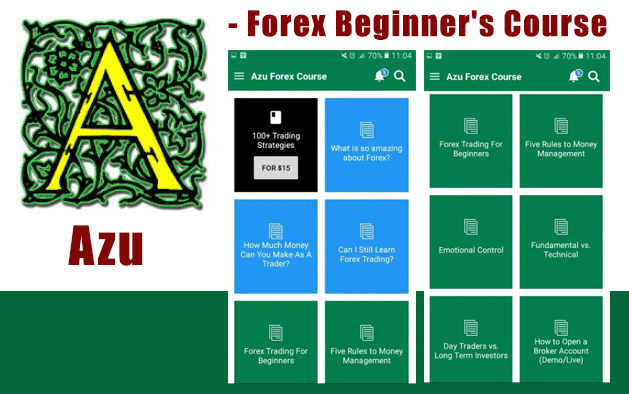 Developed by:
'Azu – Forex beginner's course' is developed and offered by Mdunge.
How the app works:
Download and launch 'Azu – Forex beginner's course' on to your mobile phone or other smart devices. Now open the app and click on subscribe to the forex currency alerts by turning on the notification. You can also share the notifications you receive through the app to your friends and family. You can check and share the currency strength too. The app is reliable as it uses verified and trusted sources. So you can be worry-free of any hassles. The app allows so many quiz you can take in regards to forex. It also allows you to learn all about forex before you wish to invest in it.
Features of the app:
'Azu – Forex beginner's course' has many alluring features. Some of these are listed here.
Trusted and reliable source
Daily quiz
Learn forex
Daily forex news and tips
Compatible with: