Do you own an iPhone? If so, then you might have often wanted to share files to other devices near by turning on the Bluetooth feature in it. How can you do so? With Snifferton app, you can get to know all the Bluethooth devices that are near you. Using this, you can share the media files with other devices.
Snifferton alerts you whenever it finds a new device coming close to your smartphone. It is your own personal detective when it comes to identifying any Bluetooth device that comes in contact with your mobile. You can also mark individual devices and monitor its activity with this.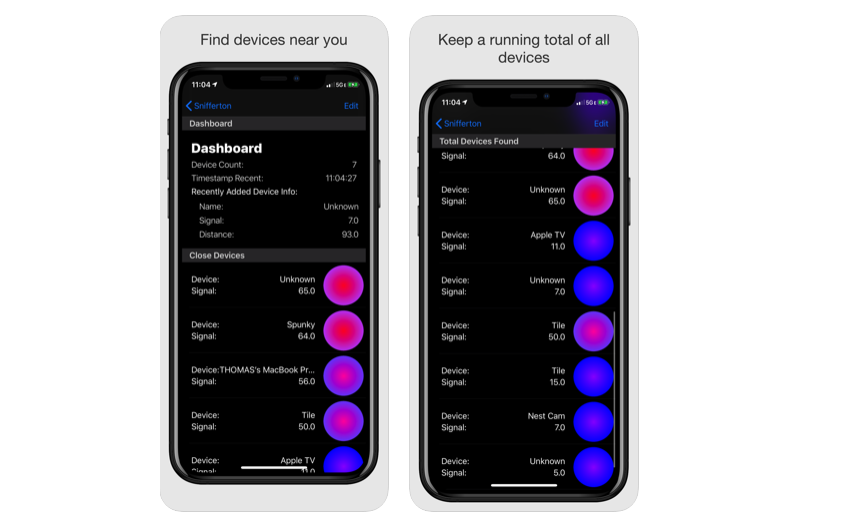 Snifferton lets you to be in the know of all the devices that are currently operating near you. It allows you to track any number of devices. The most unique feature with the app is that, using this, you can monitor the device that is the size of half a football. Users can also save several devices and let them be synced with other devices on Snifferton.
Once when Snifferton is installed on all the devices that are near you, one can easily monitor all of them. Yes, all that you have to do is just install it on all devices you have at your home or office and transfer files among them without any hindrance.
The interface of Snifferton is so nice so that you will not find any difficulty in using it. The app clearly gives a list of the total number of devices and also the time period they were present near you. It also gives the name of every single device around and also mentions its' signal strength.
Snifferton is suitable only for devices with iOS 13.2 or later versions. The app belongs to the Utilities category and was last updated on 5th March, 2020. Published by Thomas Thompson, it is a must for all those using iOS devices. The app doesn't miss anything being tracked, it can an Apple TV, an Android Tablet or any other mobile or tile, everything is easily identified by this smart app.
It is made available in English language and is suitable for all those above 4 years of age. The company offers a promotional subscription at a price of 4.99 USD pre tax per month. I have already encouraged my friends and family to use this app and attain its benefits. What are you still waiting for? Download Snifferton this instant and enjoy unlimited Bluetooth sharing without any interruption.
Worth Having app – Download the App