The craze for matching and bursting colourful stones, crystals or fruits has been going around for a long time. According to an analysis, such games provide visible improvements in spatial development like spatial visualization and the mental ability to work in multi-dimensions. Playing these games has become the newest way to get connected to people by sharing your scores online and competing with your friends, helping them out in need and being helped when you need it. It usually builds up happier relationships between friends and lets them connected on a virtual level. They also improve concentration and the process of mental images in your brain.
'Free Crystal Match Swap' is an app that is a crystal match swap and has taken the market by storm.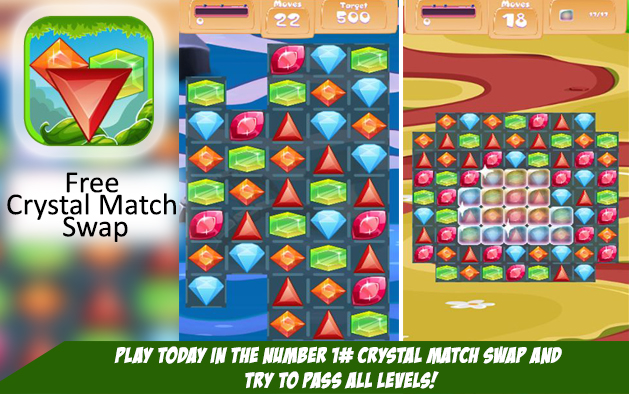 Developed by:
'Free Crystal match Swap' is an app that is developed and provided by '40 Thieves' in the Google Play Store.
How the app works:
Download and install 'Free Crystal match Swap' app on your mobile phone or other devices. Launch the app on your device and start enjoying unlimited bliss of the game. Play in the number one crystal matching and swapping game where you can use all types of effects to pass the puzzle. The game gives you bombs that let you match more than three crystals at the same time. You can match three or more crystals to get a match. As you progress through different levels, feel the difficulty level rising in the game.
Features of the app:
'Free Crystal match Swap' app has many cool features of which some of the prominent ones are listed down here.
All types of effects like bombs to be used in the game play
Many levels
Power ups
Reach the target
Compatible with: