Nowadays, there are machines available at the hospitals for tracking a person's Biorhythm. But, as you all know that, Doctors charge too much for consulting. We should consult them unless our body is supposed to! If we can cure ourselves, for any small disease, it's better! They can cure you, no doubt, but can't say anything about your upcoming critical days! Isn't it? What if you have your own Biorhythm machine which will tell you about your critical days/ dangerous days in which you need to avoid some activities. Well, the Universe wants to know!
I've been using an app for some days and compared it to others. I had so many apps, similar to that, but Biorhythm Ω is the ultimate app which helped me in tracking my body's rhythmic cycles. I recommended it to the other people also and tracked the cycles of my friends and family as well.
It's just a great app and acts as a health forecast for me! It's very well designed and developed by Jeonghwan Kim. The app comes under the Lifestyle category. It requires iOS 11.0 or any later versions of your iPhone, iPad or iPod touch.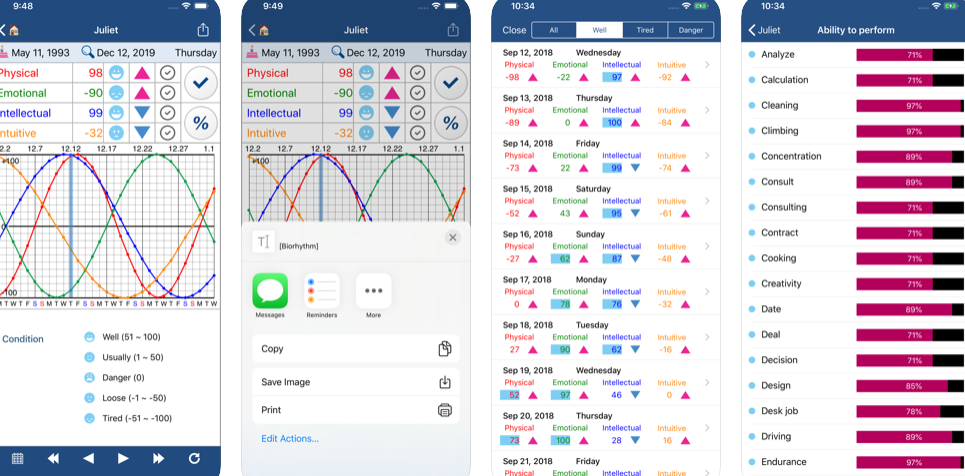 With Biorhythm Ω, you can protect yourself by checking Biorhythm daily. If you are not feeling well about some measures such as stamina, judgement, emotions, you need to avoid unreasonable activities and check your Biorhythm daily. It can be referenced in almost every area of your life, such as learning, sports and sales. Biorhythm can be defined as a regular series of various changes in your life such as sleeping, walking, working, etc. It's the psychological cycle of a physical, emotional, Intellectual and intuitive. These cycles are repeated in a uniform pattern based on your birthdays. There is a difference in the activity efficiency or ability depending on the combination of these four patterns. The 4 rhythm cycles can be calculated as follows:
Physical rhythm: sin (2π d / 23)
Emotional rhythm: sin (2π d / 28)
Intellectual rhythm: sin (2π d / 33)
Intuitive rhythm: sin (2π d / 38)
Here, d is the number of days of living. Each rhythm has a value from -100 to +100, and this value indicates the status. Low stage: -100 to -1,
High stage: +1 to +100, Dangerous Days: 0 (at the time of transition from + value to – value or from – value to + value). These four rhythms of a user are displayed as values and graphs.
Using Biorhythm measurement, you can change the target date easily to view Biorhythms on multiple dates. Moreover, you can track multiple users' Biorhythms and calculate their average. You can calculate the Biorhythms of 31 days and extract dates for state classification. The app provides accurate data using formal algorithms and displays graphs which are not as simple as you think. However, they are sophisticated and easy-to-observe. You can see your future Biorhythms as well by changing the dates. If you want to send the reports of Biorhythm, you can send them via messages or email.
On the whole, I would definitely say that Biorhythm Ω is a superb app for those who are going through any trauma and want to calculate their critical days in the future, so that they can improve their health as well as get prepared for the future! The app is easy to use anywhere at any time for just $1.99.
Give it a try now!
Worth Having App- Download the App