There are many shooting games in the market that pique our interests for a very short span of time. Not all shooting games pose an interesting theme of game play. As a revolution the app market saw a new and improved version of the shooting game which also included running while dodging and killing alien monsters. Such an extraordinary game is the 'Crazy Space Shooter' which is a mobile based app that works on smart phones.
Developed by:
'Crazy Space Shooter' was created and provided on the market by '801Chase'.
How the app works:
Download and install the 'Crazy Space Shooter' app on your smart phone or other compatible devices. Now launch the game and start playing a never ending fun game. As you press on start, you will be taken inside the game area where you will have to use the controls to shoot the aliens in your path and jump up and down to dodge the obstacles. Kill everything in sight and collect gold coins to update new avatars and unlock exciting space crafts. The game hosts a variety of obstacles that range from spikes to deadly voids and the alien monsters that come along your way. This game focuses on your reflex to react to sudden situations and focus.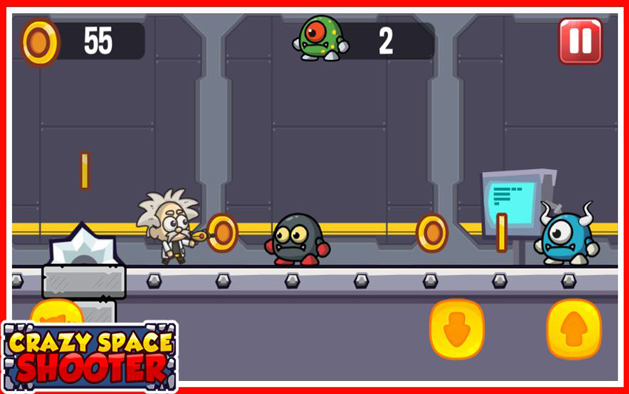 Features of the app:
'Crazy Space Shooter' has many alluring features of which some are listed below here.
Simple and user friendly interface
Easy and smooth to handle game controls
Collect the gold coins to unlock exciting new space crafts, avatars and other game props
Tackle obstacles
Improves your reflexes during the game
Start running and shooting all the enemy aliens along the way while also dodging obstacles
Compatible with:
'Crazy Space Shooter' works on Android powered devices.