Kids require a lot of patience and understanding while learning. While you teach kids you should understand that each child is different and requires a different method of teaching to grasp the concept. With toddlers it is even more difficult and trying to understand them. With the right images and the perfectly accompanying sounds, teaching little kids gets to be a lot easier than one can imagine. This application doesn't have a main menu which makes it easierfor children to go directly to the application with no confusing part. There are numerous things like musical pieces, animals, and other different sounds in there. This application shows an extraordinary picture images just as the nature of the sound that is also clear with no extra noise.
'Sound Touch Lite – Animals app' is a mobile based app that aims to get kids familiar with the different sounds and the animal or object associated with it.
Developed by:
'Sound Touch Lite – Animals app' was created and offered by Sound Touch Interactive.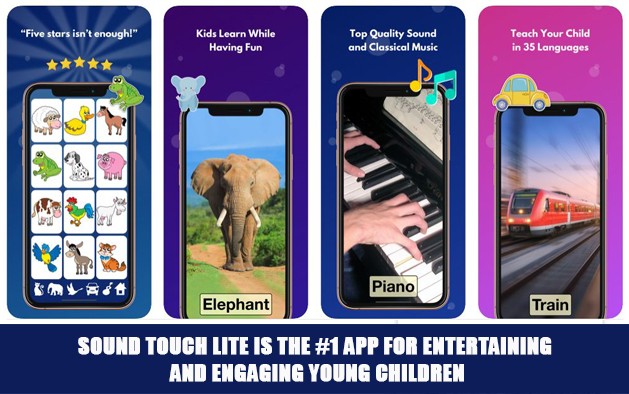 How the app works:
Download and launch the 'Sound Touch Lite – Animals app' application on your smart phone or other device that is compatible with it. Just tapping on the image in the app will play the sound of that object or animal. Every item in the app has 5 real images and sounds to that. Kids can tap on a violin or a piano piece and play on it.
Features of the app:
'Sound Touch Lite – Animals app' has many cool features which are listed here,
Dubbing in 35 and more languages
Rotating pictures for every item
Simple interface
More features are available in the settings menu
Website : https://www.soundtouchinteractive.com/
Compatible with:
The application works on all Android and iOS devices. It is also available on Amazon.